Authority Soccer (authoritysoccer.com) is a participant in the Amazon Services LLC Associates Program, an affiliate advertising program designed to provide a means for sites to earn advertising fees by advertising and linking to Amazon.com. This site also participates in other affiliate programs and is compensated for referring traffic and business to them.
Depending on what people want their soccer ball for, whether that be to use it to work on your dribbling, juggling, or any other skills that are required to play soccer, finding the right ball can be a tough task.
Then you could want a soccer ball that is just simply extremely durable and can withstand the tough kicks that come from kids playing at school or in the backyard.
Well, to find out if that is the case with the Mikasa Serious soccer ball read our review.
The soccer ball from Mikasa is part of the US high-performance section of balls. This soccer ball in particular is a superb choice for toddlers as well as middle school children too.
It also has four different color schemes, and it has the panel design that you normally see with the Mikasa logo being easy to spot, directly at the top of the panel in the center.
With the Mikasa Serious soccer ball, it is more durable than good to use for skills, however, that does not mean it is not a good soccer ball.
In this article, we will do a full review of the Mikasa Serious soccer ball and we will look at things like the benefits of the soccer ball and the disadvantages of the Mikasa ball. If you are thinking about purchasing this ball then read on as we give it a full review.
The soccer ball is made available in five different styles and this type of soccer ball can be used as a great practice tool for kids at school, team practices, and gym classes for younger soccer teams.
This soccer ball will stand up to the general wear and tear that a ball goes through, unlike cheaper versions which rip apart after just a few months.
The Benefits of the Mikasa Serious Soccer Ball
The Mikasa soccer ball has an extremely tough cover which allows your kids or other soccer players to essentially do what they want with it, yet the ball is still really soft to touch which is great.
Because of the ball's hardcover, if you want to practice your headers, then your head is not going to like it much as it will feel like a meat tenderizer against your head every time you go up and head the ball.
Because of the softness of the ball, it gives it a really accurate movement of the ball when you are practicing on your shots and even crosses.
The ball allows for you to get some decent bend and that gives players the ability to be able to bend the ball around a wall that has been set up or it allows you to work on passing the ball more accurately.
Other skills like being able to control the ball of your knee or chest feel genuine as a match simulation too.
The other benefit of this soccer ball is how much it costs. As anyone who has worked in a soccer club, at one time or other balls do go missing for whatever reason or they get damaged or simply lose their shape.
Because of all of these factors, clubs are hesitant to splash the cash on high-quality balls just in case it happens to the new balls.
However with the Mikasa Serious Soccer Ball, it is really affordable, and you will not have to worry about it going missing as it will not cost you much to replace it.
The Disadvantages of the Mikasa Serious Soccer Ball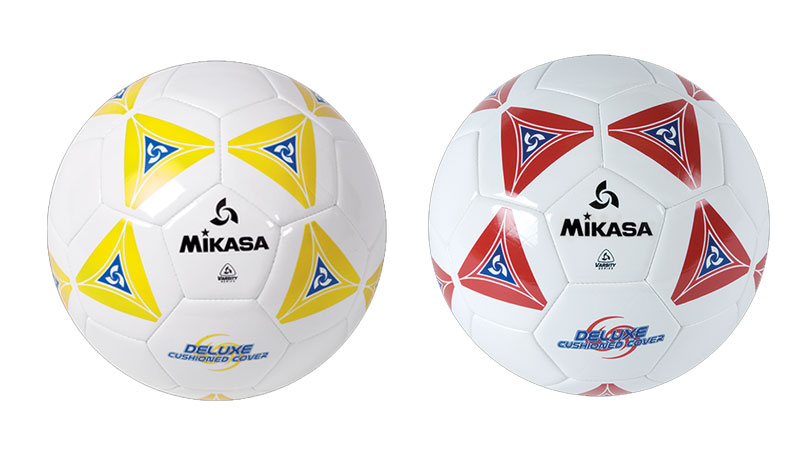 After looking at over balls from Mikasa, there were some that had a tendency to lose the air in them quicker than others.
As we know, soccer balls will lose their air over time eventually, more so because of weather conditions however there are some balls that lose air simply just from sitting around and not being used and that is not what you want in a soccer ball.
If you are going to buy this soccer ball you must first think about how and where you are going to use it. The series of soccer balls that Mikasa has released in which the Serious Soccer Ball is a part of is called Varsity.
This had led some people and organizations to think that they are a good choice for organized sports. However it is a practice ball and nothing else and it only comes in two sizes, four and five.
| Pros | Cons |
| --- | --- |
| Different color choices | Arrives deflated |
| Sturdy and a strong bladder | |
| One-year warranty | |
| Easily affordable | |
If people are wanting to buy a proper official match ball, then you might want to reconsider purchasing this soccer ball.
If you want a soccer ball that is properly put together and gives you a good amount of padding as well as accuracy when it comes to ball movement, then the Mikasa ball is a good choice for you. This ball has also taken a top spot in our best soccer balls for kids article.