Authority Soccer (authoritysoccer.com) is a participant in the Amazon Services LLC Associates Program, an affiliate advertising program designed to provide a means for sites to earn advertising fees by advertising and linking to Amazon.com. This site also participates in other affiliate programs and is compensated for referring traffic and business to them.
Female soccer is a widely acclaimed industry that is beginning to draw attention from major stakeholders.
Long before now, kicking the round leather was an activity left to the male folks alone, maybe due to the physical exertion and stamina required.
That was a myopic conclusion; women are up to the task as well as the men. Players like Martha, Carli Lloyd, and Alex Morgan have dazzled us with their prowess on the pitch of play.
It is no small task to bustle around on the greens for around 90 minutes. Their male counterparts playing at the MLS can earn as much as 4.9 million dollars as of 2021 and 2022, and it is projected to increase to $7 million by 2027.
 It is common to hear players making transfers between clubs for an amount worth millions of dollars and pounds, and, in turn, bagging handsome paychecks weekly. 
This single phenomenon provokes curiosity about the wages of their female counterparts. America seems to be the center of women's football(soccer, to be precise; make no mistake) by means of the National  Women's Super League.
Top professional footballers all over the world have either once plied their trade in the "no man's land" or aimed to do so in the nearest future. Some of the best are Americans.
So, once the discussion of women's soccer is tabled; the United States of America is of worthy mention. The North American country is the scope for this rating.
What is the salary range for players in the NWSL?
Female players earn way less than male folks. It is only in the national teams of England and Brazil that the equal pay rule is seemingly getting recognized. Now, in 2021, these are the statistics of annual salary in the NWSL.
The minimum salary for any player is $22,000 while the maximum salary is $52,500. Since the inaugural 2013 Season, there has been a continual rise until this point.
The federation regulates the team cap to stand at $682,500 for 22-24 players which means, on average, players in the league receive $28,438 for all their sweat.
Highest-Paid Women in Soccer
As of 2019, France Football was able to prove that Ada Hergerberg was the highest-paid female soccer player with a $518,000 annual income.
To further show the discrepancy between the pay for women and women, this figure is gasping to have a hold on 1% of what Lionel Messi raked in the same year. A lot has changed since then.
The average earnings of top women players will rival only those of Premier League referees. Ironically, we hardly have to discuss the salaries of the latter. The men's game is way ahead in the money department.
Now, down to business, the list consists of the names that have redefined women's soccer over the last two decades. It comprises Balon d'Or winners, national team captains, and huge figures whenever the international stage is set.
This is the part which we have all been waiting for. Here, is the breakdown of the top salaries earned by American-affiliated women soccer players.
It is very interesting to save the best for last so let's tow that part. The order goes from least to highest for an exciting sequence. From bottom to top are;
10. Christine Sinclair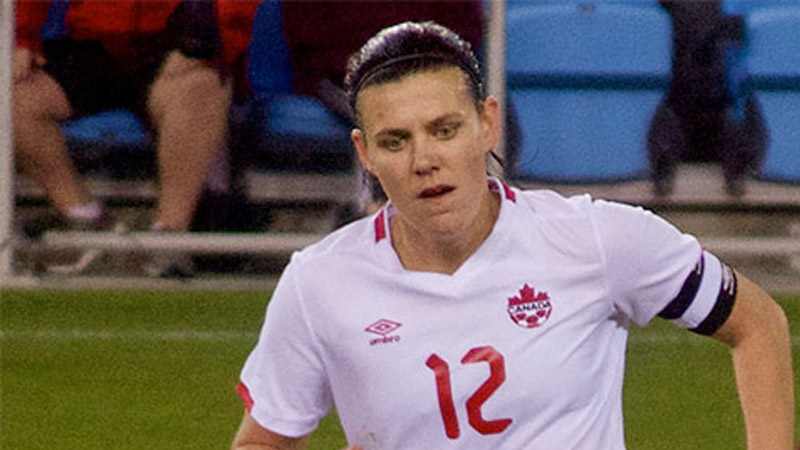 Sneaking her way into the top earners' compilation, Christine is no stranger to the women's soccer scene. Since her breakout year in 2002, the 38-year-old has gone on to garner multiple laurels and achievements.
Currently, she is the captain of the Canadian National Team which she plays club football for Portland Thorns in the NSWL.
Christine holds the record for the most international goals, for both men and women, with 187 goals.
To complement this landmark achievement, She has secured the Canadian Soccer Player of the Year on 14 occasions — a record number of times.
What else? She has made the FIFA World Player of the Year shortlist. Her international caps include 5 World Cup appearances since 2003 and 4 Olympic Football Tournament features.
Taking things in her usual strides, she is part of the Canadian Team in the finals of the women's football at the 2020 Olympics.
However, with all the glitz and glamour, Christine is only the 10th highest-paid female soccer player in the world. Still, no matter what the numbers say, her impact on the sport cannot be written off. 
9. Wendie Renard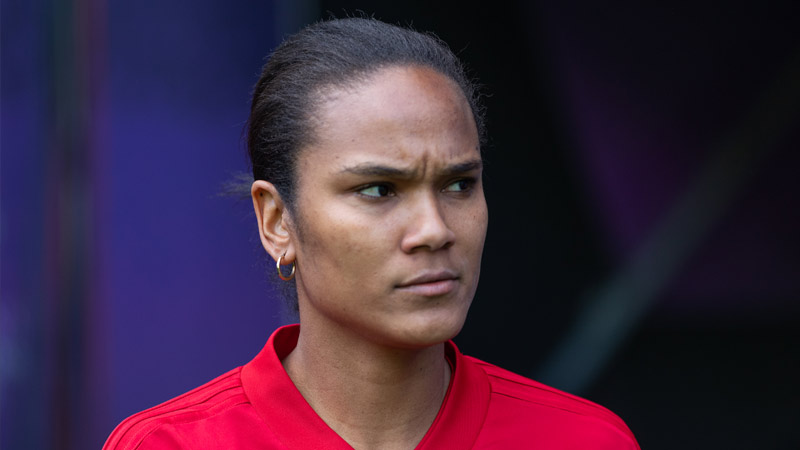 A noticeable figure on the turf, Renard has played her way to the peak of her career. At 31, she is arguably one of the most decorated women in the game with multiple French titles and European Cups at Lyon. 
A stand-out performer, Renard is a goal-scoring defender. In her position, she has scored 83 goals in 247 appearances. New York Times could not help but refer to her as an "institution" at Olympique Lyonnais, the most successful women's club in European football.
Although the World Cup keeps evading her, she might just get to lift one before she signs off. Nevertheless, she will go down in history as one of the best players in her position and the beautiful game as a whole.
Standing at 6 feet 1inches, she towers above her peers both physically and achievement-wise, then —to top that—a decent salary of $392,000. This makes her number nine among the highest-paid women footballers.
8. Amandine Henry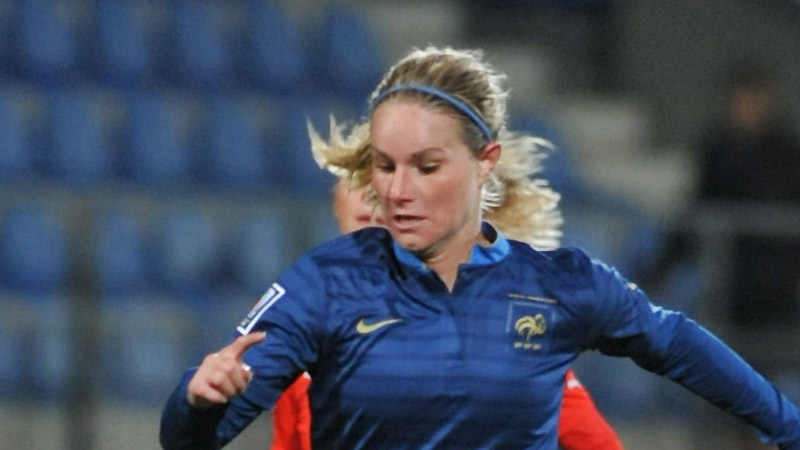 An amazon when it comes to midfield matters, Henry is next on the roll call. She sits pretty in eighth place. Her annual revenue off soccer is approximately $394,500, ahead of her French teammate Wendie Renard.
As is the "tradition" with the top French ladies, Henry plays soccer in Lyon, France. Over the years, she has become a consistent final squad list maker for the national team.
Her irreplaceable presence in defensive midfield has seen her become captain and an important member of the team that won silver at the 2015 FIFA Women's World Cup edition. Henry ended the tournament as the second-best player.
Coincidentally, her male counterpart in the highest-paid list is countryman Paul Labile Pogba. Still, Henry's pay is a far cry from that of Pogba—he gets 58 times what she earns.
This is another evidence of the wide gap between men's and women's soccer.  It is worthy of note that Henry once played for NSWL's Portland Thorns between 2016 and 2017.
7. Marta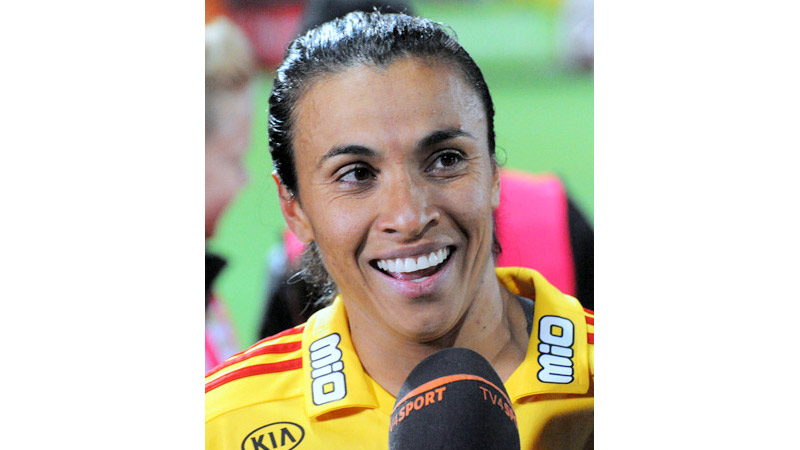 If you have just the slightest knowledge of women's football, you definitely know Marta. She has cemented her place as the most popular women's footballer of all time.
The dazzling Brazilian plies her trade in the NWSL with Orlando Pride and, many years after she came into the limelight, she is still steadily fishing out heroic performances.
 Marta has carried the FIFA World Player of the Year trophy on six occasions, five of them taken at a stretch from 2006 to 2010. She is the first footballer of any gender to score at five World Cup editions.
While at it, she has netted the most goals at the World Cup (17). What a legendary player! Also, she was a prominent member of the Brazilian teams that made podium finished in the 2004 and 2008 Olympics.
In recognition of her talent and achievements, Marta's compatriot Pele has crowned her as his female version and there is no doubt that she has her name etched in gold among the game's greats.
It is however sad that the star woman is not getting much remuneration for her status. She secures the seventh spot on this list with her annual salary of $400,000 is way below those of her peers.
6. Ada Hegerberg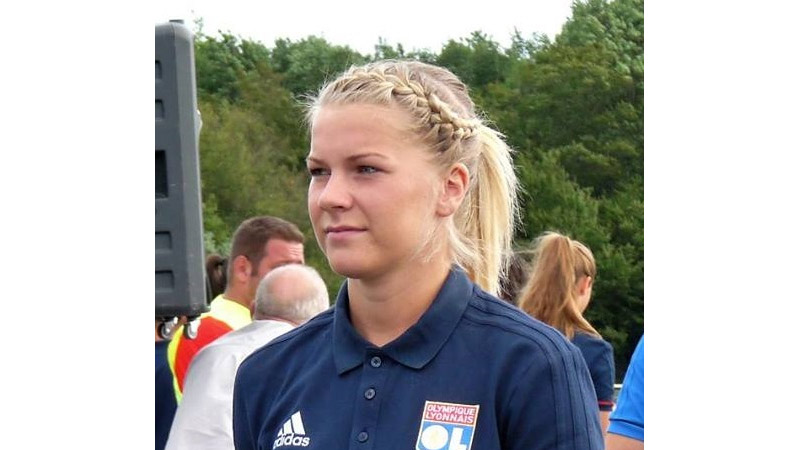 One season and the reign of a pandemic saw Hegerberg drop from 1st in 2019 to 6th this year. Everything is due to the dynamics of soccer and so we have it.
The Norwegian star is so symbolic as her on-field presence will provoke betting experts to swing into action. Her Scandinavian weave marks her arrival.
Like some others who make this list, Hegerberg plays for Lyon in France, winning the league and European Cup serially. She seats at sixth with annual pay of $425,000 realized at the close of 2020.
In addition, she has multiple endorsement deals with Hublot, MasterCard, Danone Nations Cup, and Nike. Her move to Nike will see her headline many advertisements and campaigns including gender equality.
So look out for her on subsequent Nike posters you come across.
At age 26, Hegerberg made a name for herself. She has the most goals in a UEFA women's champions league (15) as well as an all-time(53).
To put the icing on the cake, she won the maiden Ballin d'Or Féminin in 2018—an award that opened numerous doors for her. 
5. Julie Ertz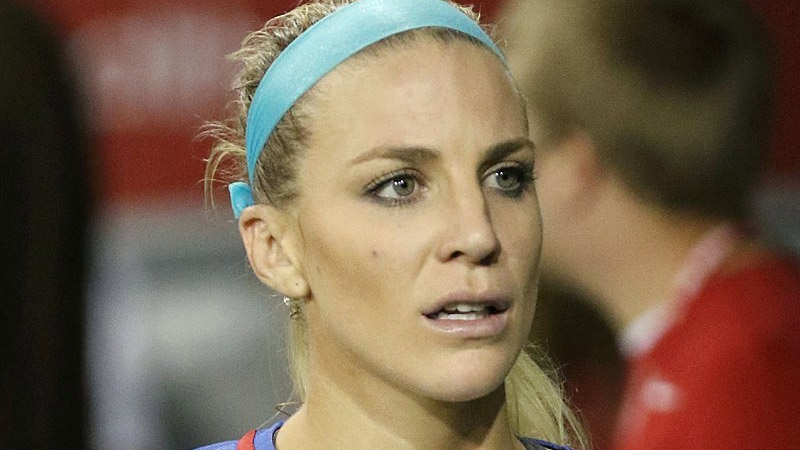 Ertz is fifth this year! With as much information available to piece together, she earns $430,000 per year, putting her ahead of Ada Hegerberg.
A very versatile player, Ertz started in central defender and has now transited into midfield effortlessly. On the back of her exceptional season as a rookie with the Chicago Red Stars, she went on to win the 2015 World Cup with USWNT.
By 2017, she was named the U.S Soccer Female Player of the Year. Subsequently, she clinched the award a second time in 2019 after another World Cup triumph.
Formerly known as Julie Johnston, she got married to Philadelphia Eagles tight end Zach Ertz in 2017.
4. Megan Rapinoe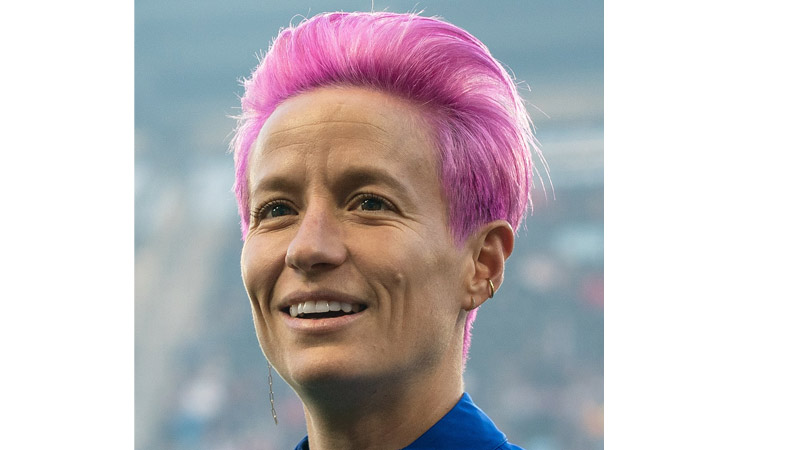 The 2019 FIFA Women's World Cup was all about her. It was a splendid year for Rapinoe as she grabbed both the Ballon d'Or Féminin and FIFA Women's Player of the year asides the most coveted trophy.
All these are contributions to the whopping $447,000 she presently earns.
Rapinoe may have come to public notice late but whether on the wings on the pitch or when she holds a mic, she wields a huge influence.
Her plays are one to behold. She has an ESPY's Best Play to show for them. On the back of Kaepernick's kneeling episode, she voiced her support for him, fighting against racial injustice and police brutality meted out on black people.
Rapinoe identifies as homosexual and is engaged to veteran basketballer Sue Bird. Also, she championed the lawsuit against the United States Soccer Federation, alongside 27 fellow USWNT players, for gender discrimination.
The case for equal pay was eventually dismissed while other grievances made it to trial.
At 36 years of age, Rapinoe has had a stint at Lyon and played for a couple of American teams with her current berth at OL Reign, where she is the captain. She represents many brands within and outside sports, namely;
Nike.
Samsung.
Wildfang.
Vitamin Water.
Proctor and Gamble.
BodyArmor
Hulu
LUNA Bar
VISA
Victoria's Secret.
Without a doubt, Rapinoe is making huge dough at the end of the day and there is much more to see concerning her in the coming years.
3. Alex Morgan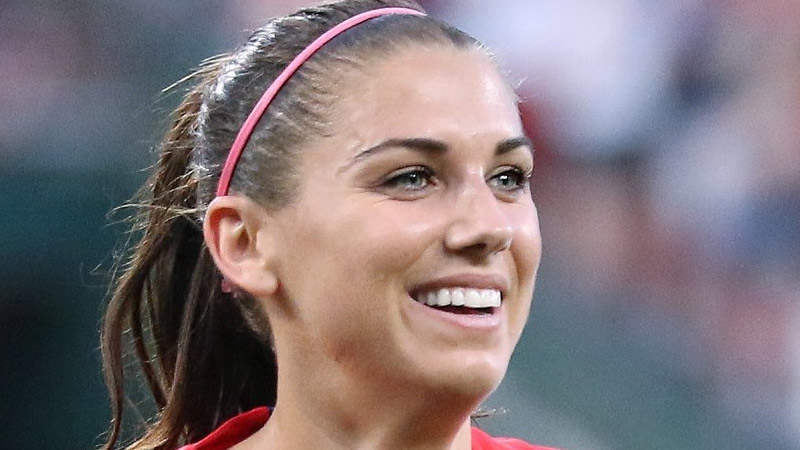 A playing legend, Morgan has graced stadiums in France, the USA, and England while making a great impact at every stint.
Her most recent sojourn saw her dorn the colors of Tottenham Hotspur in the WSL which was short-lived as she made a quick return home to camp her tent with the Orlando Pride.
Morgan stands as the beacon of women's football worldwide. Her energetic work rate has helped her rise to the apex of world football.
Starting as a first draft pick by the Western New York Flash in the WPS draft, she has gone on to greater things. Enviably, she has appeared on the cover of two editions of the FIFA game franchise, one of which was sold only in the USA.
Her commanding presence online makes her the highest followed female footballer. You can guess what follows? Numerous endorsement deals!
Brands like Coca-Cola, Nike, McDonald's, Molecule, Volkswagen, AT&T, and Panasonic have affiliations with her. All these relationships sure give that cushioning effect to her yearly $450,000 pay
In other news, she has a movie titled "Alex and Me" with a fictional character of herself in it. Morgan also writes "The Kicks", a series aimed at inspiring girls and it is set for adaptation on Amazon Prime.
Sadly, Morgan has battled injury woes lately. However, she has done it all and her name remains a synonym for women's football. Many still argue that her income is sub-par for an international superstar! Anyways, she sits at third.
2. Sam Kerr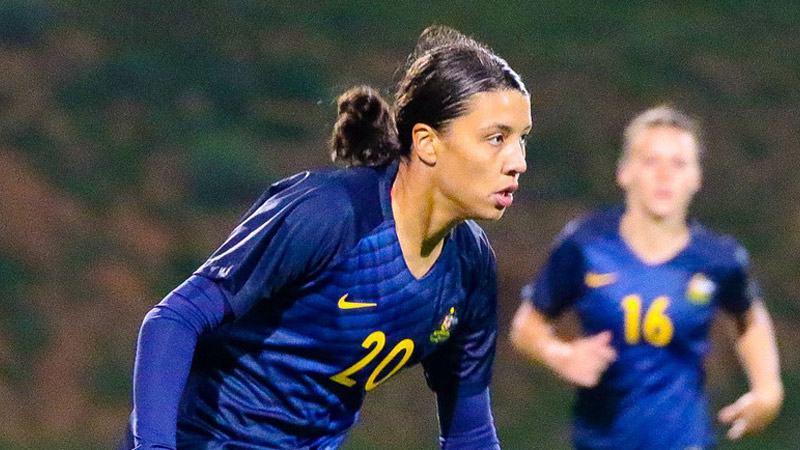 Perk up, it is Kerr at second! The amiable Aboriginal lady is making magic in England with Chelsea based on a mega-money contract.
The quality she brings to the team was made evident as she helped the Blue ladies lift last season's WSL title and reach the Champions League final  Her earnings are still debated to range between $410,000 and $500,000.
Whatever the exact figure is, she is among the big moneymakers. Her backflip celebration is a sight to behold.
Kerr holds the all-time record of goal scored in the WSL and once held the same in the Australian W-league. At 27 years of age, she captains the Australian Women's Soccer Team and is the face of Nike Australia.
1. Carli Lloyd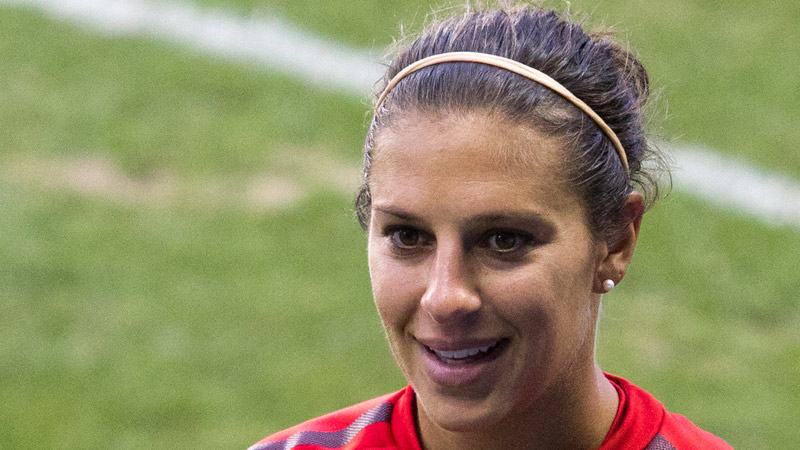 And the title goes to Lloyd, the highest-earning female soccer player on the planet this year! She unquestionably holds first place. The Sky Blue FC star has been consistent for many years since kicking off her professional career in 1999.
She is best known for her laudable run with the USWNT, Lloyd has played at every level you can imagine and has won everything on offer. In all 312 national appearances, she has netted 128 goals—a ratio of 0.4 goals per game.
This awesome return of goals keeps her name in the mouth of pundits and a  voice for bettors willing to make it good on their predictions.
 For an all-time great, a yearly salary of $518,000 is meager for Lloyd. Male footballers who do not have up to half of her achievements earn millions of pounds!
Amid this discrepancy, the only consolation is that she is the top earner in women's football. She is very much into pop culture, fronting for brands like Nike, United Airlines, Beats by Dre, and Kind. Also, her face has graced magazine and game covers, talkless of numerous invitations to TV shows. 
Lloyd, presently playing at NJ/NY Gotham FC, is long overdue for retirement; the light of tomorrow might just bring the news. Nevertheless, she has left her footprints in the sands of time, giving young girls a lead to follow and fuelling their aspirations—across the United States and abroad.
We have fantastic footballers at the women's game. A larger percentage of the list is made up of American women with only two entrants from Europe.
Evidently, this is the home of women's soccer and when the World Cup comes calling, USWNT is a force to reckon with. The pays we have observed are nothing compared to the huge wages cited in the English Premier League and the likes.
However, one constant thing is growth and, one day, women's soccer will be talking of more decent paychecks