Authority Soccer (authoritysoccer.com) is a participant in the Amazon Services LLC Associates Program, an affiliate advertising program designed to provide a means for sites to earn advertising fees by advertising and linking to Amazon.com. This site also participates in other affiliate programs and is compensated for referring traffic and business to them.
Without referees, soccer cannot be enjoyed. Refs are the final decision-makers concerning everything that happens on the pitch throughout the course of the game.
They enforce the rules and discipline the players (and managers too) on the field. Notably, referees solely have the authority to start, pause, resume or end soccer games when they wish.
Today, it's hard to imagine a game of soccer without a ref in charge, but things were very different four centuries ago. As funny as it sounds, in-game disputes were once handled between the players themselves.
Over the years, games became more competitive and referees became a necessity. By 1891, soccer laws were properly restructured to improve and enhance the work of the referees.
Soccer, and the part refs play, has continued to evolve. Now, there are assistant referees who are positioned down each flank as extra eyes for the referee, as well as a fourth official.
More recently, the controversial Video Assistant Referee (VAR) has been introduced into modern soccer.
However, these additions don't take away the ref's authority and veto power on the pitch. The ref's decision against your team, as ridiculous as you believe it to be, is final.
So understandably, it's not an easy thing to referee a game. This is why the very best referees in the world are celebrated. They stay unbiased and fair in their decision-making, which further improves soccer as a whole.
These great referees are proudly known for their fairness and experience in judging play. They temper anger with mercy, and this endears them to the fans and players of both opposing sides.
Certainly, quite a few of them have been mired in controversy of some sort. However, their tenacity and willingness to improve ensured that they remained at the pinnacles of their respective careers.
So, without further ado, let's take a look at the 15 best soccer referees of all time.
1. Mark Geiger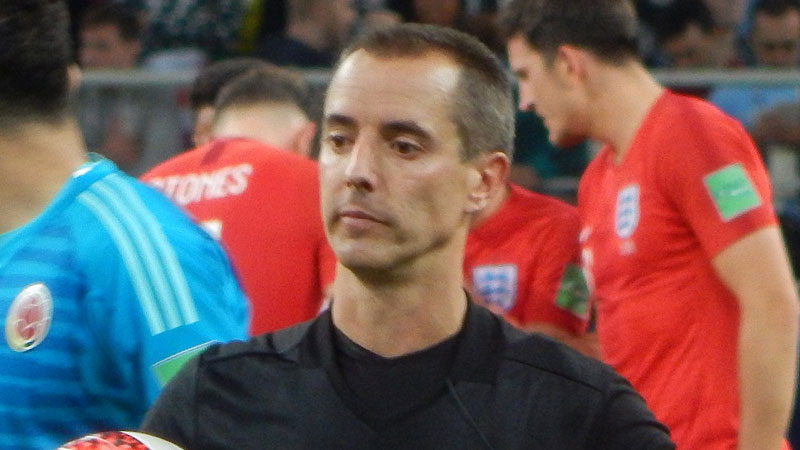 Known popularly during this time officiating in the MLS, Geiger is currently the senior director of match officials at the Professional Referee Organization.
Notably, he was on the FIFA International Referees List for 11 years, and he also participated in two World Cups. Geiger is one of the few best referees in the world that hail from the United States, unlike others who come from Europe.
In fact, Mark Geiger was the first American ref to officiate a knockout game during a World Cup.
Geiger has successfully maintained his unbiased nature during important matches, one particularly controversial incident stands out.
The star referee awarded a 90-minute penalty on behalf of Mexico against Panama during their Gold Cup semi-final matchup in 2015.
Mark Geiger has officially refereed 93 MLS games and 6 FIFA World Cup games. In his 93 appearances in the MLS, Geiger showed just 21 red cards and gave 26 penalties.
2. Martin Atkinson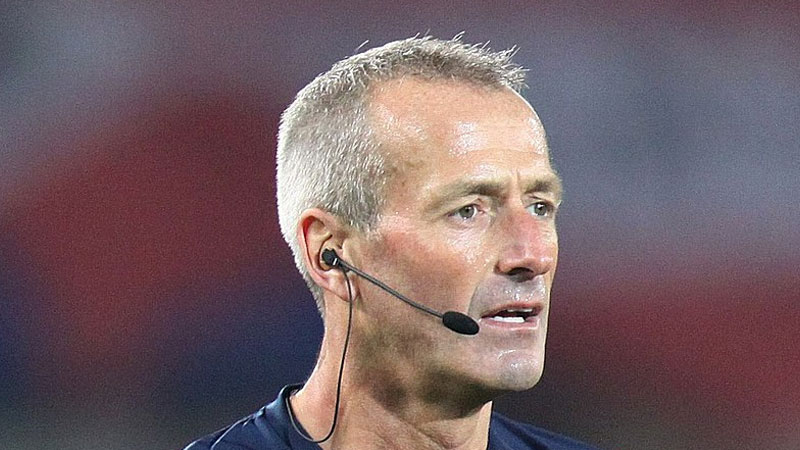 Known worldwide for his stamina, unbiased decisions, and long-term officiating experience, Atkinson is arguably one of the best referees in the world.
The star official is yet to retire, and he remains a valued English Premier League referee. Since mid-August, he has already officiated 3 games, dishing out 8 yellow cards and 1 red card.
Atkinson started his refereeing career at the very young age of 16 at his local team. By the time he was 30, he became an assistant referee in the Premier League and a referee in lower leagues.
Since 2005 when he officiated his first Premier League game, Atkinson has appeared as the main referee in 381 top-level games. He began refereeing continental and international matches in 2007 and has appeared in 41 such games so far.
Throughout his illustrious career, Atkinson has shown 95 red cards and over two thousand yellow cards.
3. Nestor Pitana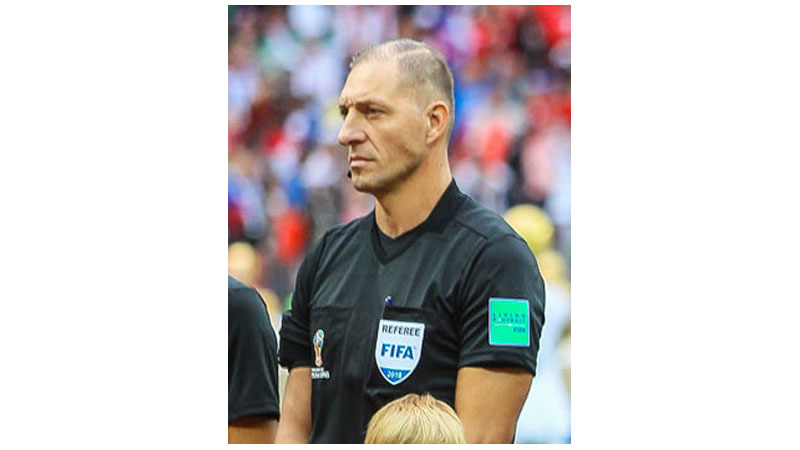 Starting his refereeing career in his home country Argentina, Pitana has become a household name in soccer worldwide. 
The former actor has successfully refereed in two World Cups and a Copa America in the last decade. Starting at the Primera B Nacional in Argentina in 2006, Pitana worked his way up to the echelons of Argentine soccer.
Outside the Primera Division de Argentina – where he has refereed 269 games – Nestor Pitana has officiated 267 Conmebol games, including two games in the Copa America 2015.
He began officiating FIFA games in 2011, and so far, Pitana has 26 such games under his belt.
Most recently, he officiated the final game of the 2018 World Cup: France vs Croatia. Ironically, his biggest controversy as a ref came during that all-important champion-deciding game.
His decision to award a penalty to France in regards to a handball has been criticized by both pundits and fans on both sides.
Nestor Pitana is notably one of the few world-renowned referees outside Europe.
4. Cüneyt Çakır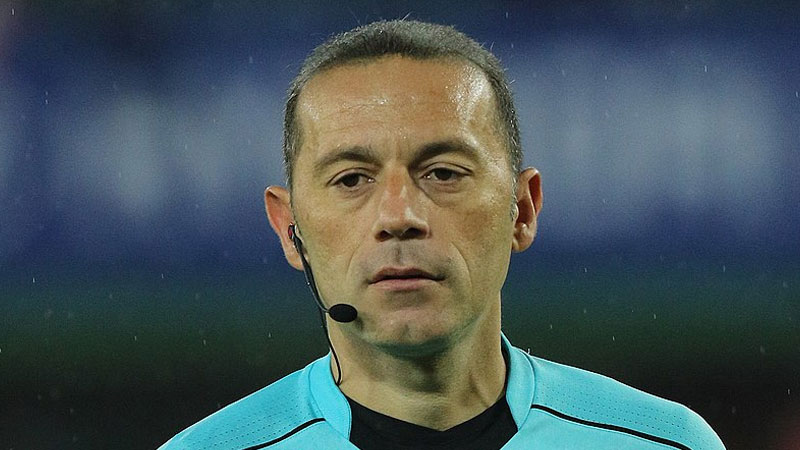 A long-standing member of both FIFA and UEFA referee lists, Çakır has achieved great progress in world soccer since his time as an insurance agent.
Regarded as one of the best refs in the world, the Turk has officiated domestic games in his homeland since 2001.
Asides from his consistent appearances in the top Turkish league, Çakır has also officiated international games and important Turkish Super Lig games.
His most notable games have included the UEFA Champions League 2012 semi-final between Barcelona and Chelsea, as well as the UEFA Champions League 2015 final between Barcelona and Juventus.
Cüneyt Çakır also officiated six games in the two World Cups of the previous decade.
Controversially, the Turkey-born referee can be quite strict. He is notable for sending off important players during important games, although pundits will argue that he merely stuck to the rules of the game.
5. Bjorn Kuipers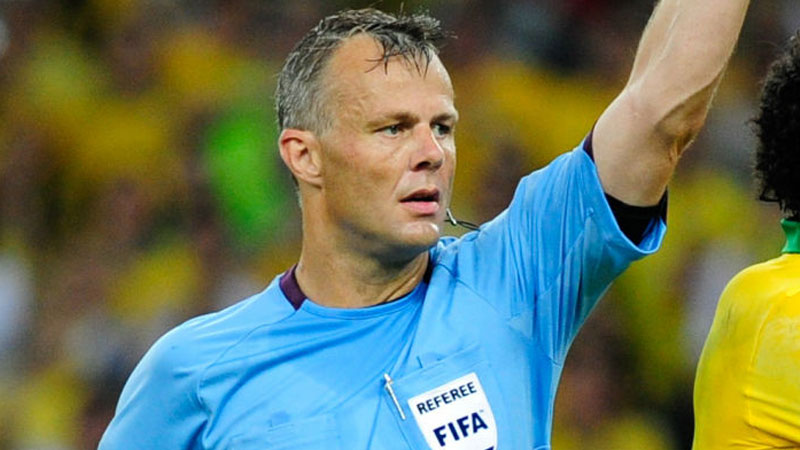 Ever since he was awarded his FIFA badge in 2006, the Dutchman has been appointed to officiate a stunning 10 international finals. Similarly, on the domestic front, Kuipers has officiated 8 finals.
The now-retired referee started off his career in the Dutch second-tier league in 2002. By 2005, he was overseeing important Eredivisie games.
A year later, he was awarded his FIFA badge, and he quickly rose through the ranks to officiate the European U-21 Championship Finals in 2006 and 2009.
In the last decade, Kuipers has officiated in the FIFA Club World Cup, UEFA Super Cup, the Euros, Europa League Finals, and UEFA Champions League Finals. 
Not one for many controversies, a Champions League match between Paris Saint-Germain and Manchester City earlier this year saw Kuipers on the line for investigation.
Kuipers, who officiated the game, was accused of insulting two PSG players on the pitch.
6. Frank De Bleeckere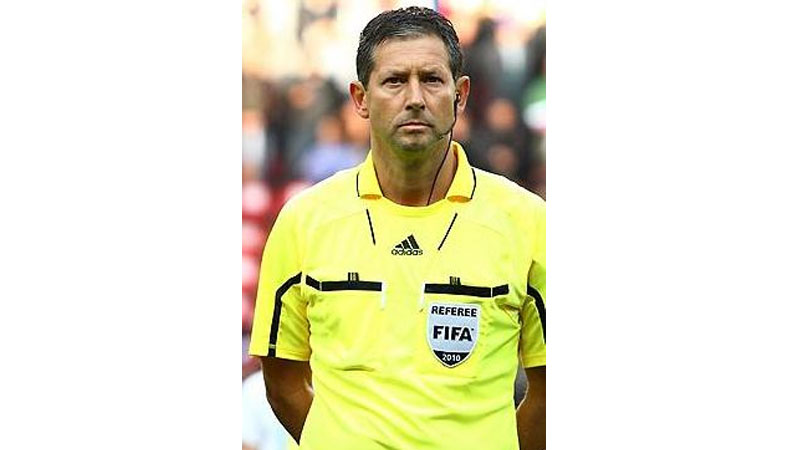 Starting his career in 1984, De Bleeckere became the first referee to win the Belgian Professional Referee of the Year award seven times in thirteen years.
He began officiating international games in 2001 and went on to officiate 7 World Cup matches till his retirement in 2012.
Not one to keep his cards in his pocket, De Bleeckere was notable for his no-nonsense manner while officiating. In the 2006 World Cup alone, he oversaw four games and handed out 19 yellow cards.
His penchant for strictness has also shown up in many important tournament games. While sometimes seen as controversial by pundits, De Bleeckere's decisions to caution and send off players remained steadfast.
In 47 Champions League games, the former referee showed 164 yellow cards, as well as 7 straight reds.
7. Oscar Ruiz
Known as perhaps the best Colombian referee in the country's history, the former referee joined FIFA's ranks in 1995. Over the course of 16 years, Ruiz would go on to officiate games at three different World Cups.
Not one to become enmeshed in controversies, Oscar Ruiz had a relatively stable career for many years.
His major – and perhaps only – controversy came a year before his retirement during the 2010 World Cup. Ruiz's decision to send Yoann Gourcuff off during a France-South Africa group game has been described as unnecessary and severe.
Today, the former star referee works as a referee instructor within FIFA and CONMEBOL.
His expertise on the pitch will certainly improve the new generation of referees in South America.
8. Pedro Proença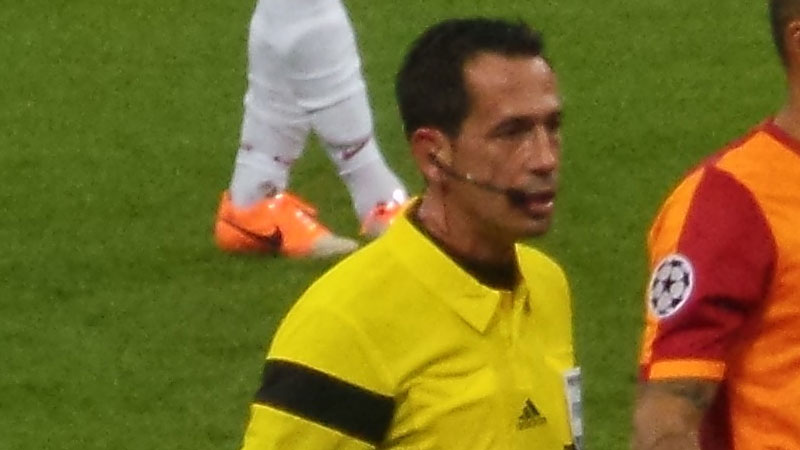 From the start of his career within Portugal in 1998 to his retirement in 2015, Proença built a brilliant reputation that pronounced him the best referee in Portugal.
With his career unmarred by any controversies, the Portuguese star official was elected as president of the Liga Portugal in 2015.
After officiating domestic games for five years, Proença was promoted to FIFA's referee ranks in 2003. He had the honor of officiating UEFA Cup matches, U-19 Championships, and eventually the Euros.
He also became the first Portuguese referee to officiate a European Championship final (Spain vs Italy in 2012), and he also refereed the UEFA Champions League final of the same year.
Some of his awards include "Best Referee 2010-11" by the PFF and "Best Referee of 2012" by the IFFHS.
9. Howard Webb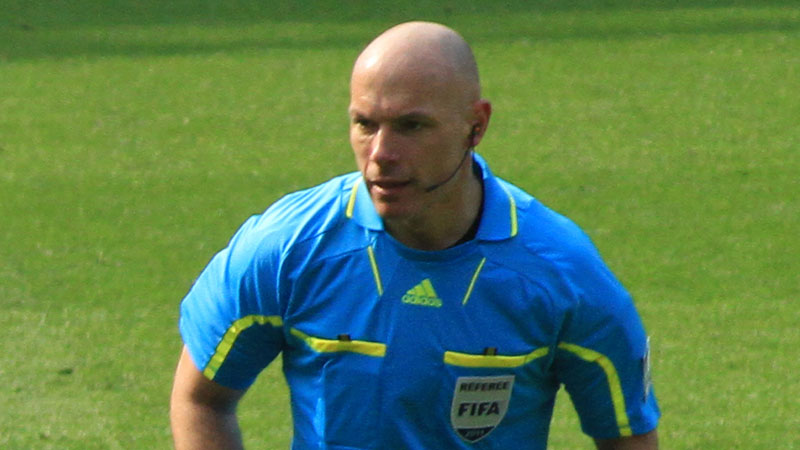 Notably, the England-born star ref was the very first referee to officiate the finals of both the UEFA Champions League and the FIFA World Cup in the same year.
Known for his authoritativeness on the pitch, as well as his strict and unbiased approach, Webb is arguably one of the best referees in soccer history.
The now-retired referee notably issued 68 red cards in the 534 games he officiated. On average, he issued three yellow cards per game as well.
Quick to pluck the cards from his pocket, Howard Webb broke the record for the number of yellow cards issued in a World Cup final. The 2010 World Cup final between the Netherlands and Spain saw an astonishing 14 yellow cards issued.
After his refereeing career, Webb became the technical director of the PGMOL (the main body responsible for match officials in England). He also became the director of referees in Saudi Arabia.
10. Pierluigi Collina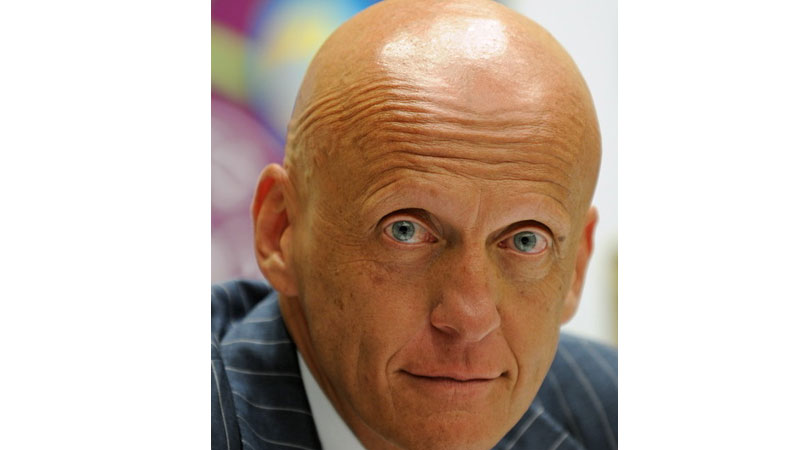 Starting his 10-year FIFA career in 1995, the former Italian referee was named FIFA's "Best Referee of the Year" six consecutive times.
To date, this record remains unbroken, and Collina is regarded as one of the best referees in the history of international soccer.
Pierluigi Collina was also vindicated in the most shocking match-fixing scandals in European history: Calciopoli. Notably, the instigators of the scandal had plans to punish Collina for his unbiased objectivity during games.
The revelations of these plans vindicated the referee and also improved his international standing.
When he reached the mandatory retirement age, Italy's soccer federation raised the age level in order to keep Collina as a referee.
However, he ultimately resigned. Today, Collina is a member of the UEFA Referees Committee, Chairman of FIFA referees committee, and Head of Referees in Ukraine.
11. Felix Brych
Currently refereeing in the bigger stages of German domestic soccer, alongside his international and European duties, Brych is one of the biggest referee names out of Bavaria.
Having gotten his FIFA badge in 2007, Brych was quick to rise through the ranks. By 2012, he officiated the Barcelona-Chelsea Champions League semi-final.
In 2014, he refereed the Europa League Final, and in 2017 he refereed the Champions League final.
His most controversial moment, to date, was the Switzerland-Serbia match during the 2018 World Cup.
His decision not to award a penalty to Serbia was highly criticized and created a lot of controversies. FIFA ensured, afterward, that Bryce wouldn't oversee any of the remaining games at the 2018 World Cup.
However, this controversy hasn't deterred Felix Brych from refereeing two games at the recent Euro 2020. His awards include IFFHS World's Best Man Referee of the Decade 2011-2020.
12. Michel Vautrot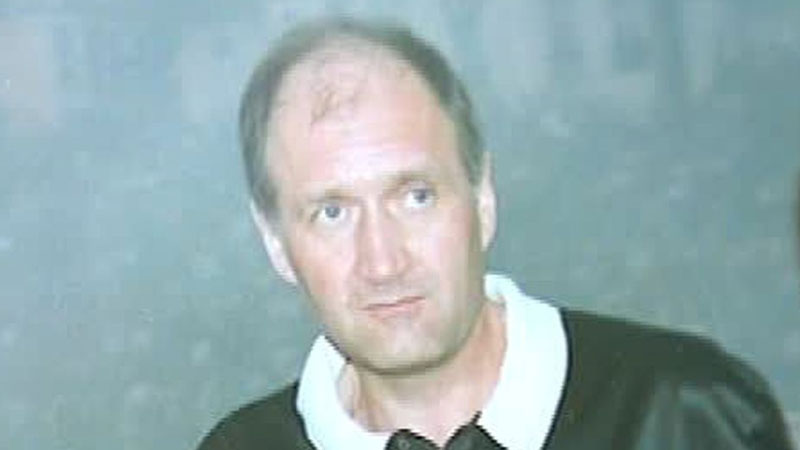 The oldest man on this list of referees, Vautrot's brilliant capacity to oversee the game ensured his success in the 70s and 80s.
He notably officiated five games in two World Cups which were held in 1982 and 1990 consecutively. He also refereed the finals of the Club World Cup in 1983 and the European Cup Final in 1986.
Vautrot has been honored by France, having been awarded Chevalier and Officer of the French Order of Merit. The IFFHS also awarded him as the World's Best Referee twice in a row.
One single controversy nearly marred Vautrot's illustrious career: the Vautrot Scandal. Dino Viola, the former president of Roma, attempted to bribe Michel Vautrot with £50,000 in order to make the referee more lenient towards Roma in the semi-finals.
The scandal saw people receive jail times and saw Viola get banned from soccer. Fortunately for Vautrot, he was vindicated during investigations.
13. Peter Mikkelsen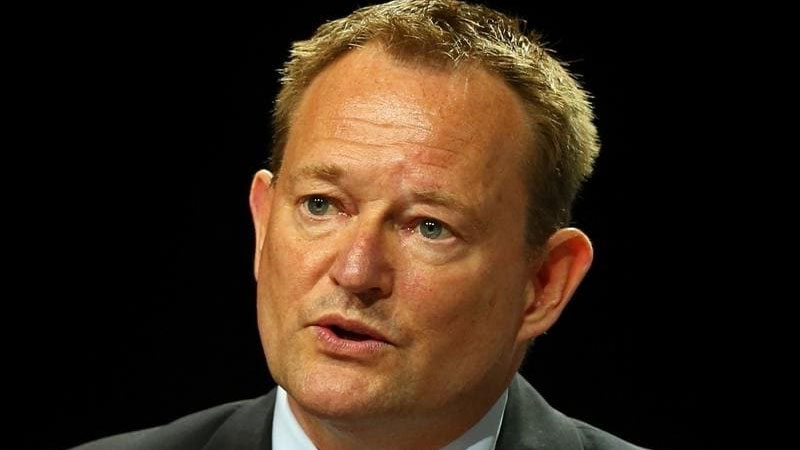 The former referee, who passed away in 2019, was one of the best referees in the game. He was also acknowledged as one of the pioneers of Danish refereeing. The IFFHS awarded the Dane with the prestigious "World's Best Referee" twice.
Quick to build his illustrious career with a firm and unbiased hand on the pitch, it came as no surprise when FIFA picked Mikkelsento to officiate in the 1990 World Cup, even though he was just 30 years old.
Although he was young, he took charge of two matches. By 1994, he was given three games to officiate. UEFA European Championships also provided him with a great presence on the big stage, even in his earlier years.
Plying much of his trade with Denmark's top league and international fixtures, Mikkelsen gained a reputation for staying controversy-free throughout his career.
He retired in 1998 and left the world of refereeing entirely, choosing to work in the HR department of F-Group (a company in Denmark).
14. Sandor Puhl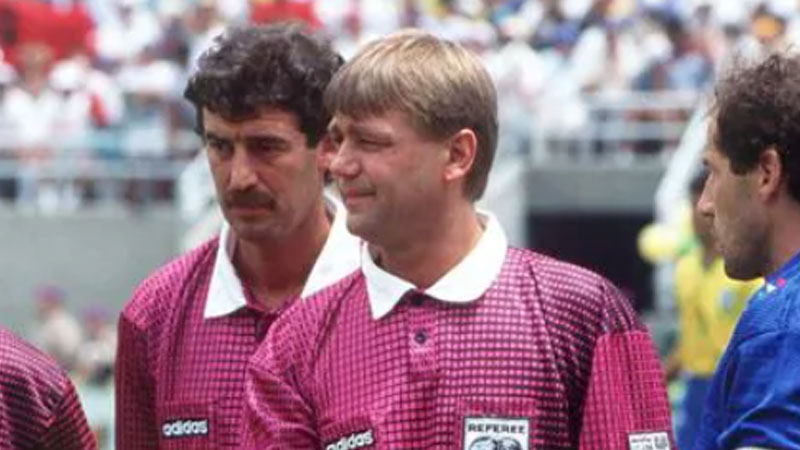 If Mikkelsen wasn't marked with controversy, Sandor Puhl is the stark opposite. On one of the biggest stages of world soccer, Puhl was highly criticized for his decision-making by both pundits, players, and FIFA too.
The event took place during the 1994 World Cup quarter-final between Spain and Italy.
An Italian player had elbowed a Spaniard inside the penalty box, and even though the impact broke the Spaniard's nose, Puhl did not give a penalty or a card. After the match, he was heavily criticized by FIFA and ended up getting suspended.
The Hungarian bounced back in fine fashion, eventually winning the award for "World's Best Referee" four times in a row from 1994 to 1997.
Sandor Puhl recently passed on after he was diagnosed with COVID-19. Before his death, the star served as the Deputy Chairman of soccer in Hungary.
15. Kim Milton Nielsen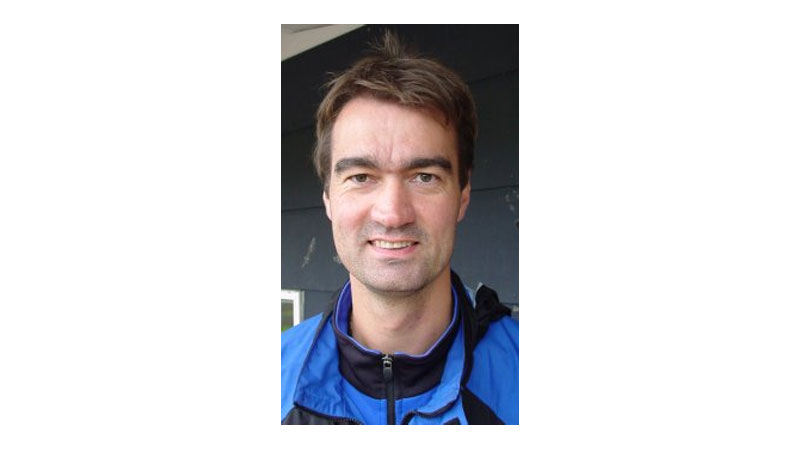 Yet another Dutchman on this list, Nielsen started officiating important Danish games aged just 25.
By the time he turned 28, FIFA's list had come calling and he remained FIFA-listed until 2005.
Nielsen's competence and unbiased approach ensured that, even when controversies came knocking, he would be free from criticism.
He notably took charge of the England-Argentina World Cup clash where he sent David Beckham off with a red card. He also took charge of Manchester United's game against Villareal where he showed Wayne Rooney a second yellow card for sarcastic behavior.
Nielsen has also officiated other important games, with the UEFA Cup final and the Champions League final easily coming to mind.
Retiring at the mandatory age limit of 45, it is quite possible that Nielsen could have given us a few more years of brilliance outside the age limit.