Authority Soccer (authoritysoccer.com) is a participant in the Amazon Services LLC Associates Program, an affiliate advertising program designed to provide a means for sites to earn advertising fees by advertising and linking to Amazon.com. This site also participates in other affiliate programs and is compensated for referring traffic and business to them.
This is a review of Neymar's FUTURE Z soccer cleats.
As a Sunday league football manager and an avid player, I know how important cleats are in improving your game.
I did some research to discover if Puma's Neymar-inspired cleats are the best in the market.
I was eager to check out these cleats from the start, and I wasn't disappointed at first glance.
The FUTURE Z 1.1 cleats are as dramatic as the soccer pro they were built for – dynamic, contrasting, and bold. It is immediately clear that Neymar had a hand in the design, with the colors stylishly matching Paris Saint-Germain's fourth kit.
However, the aesthetic appeal isn't the most important (or useful) feature. Puma mentioned that the cleats have a FUZIONFIT+ compression band, as well as GripControl Pro and Nano Grip technology.
But how do these features benefit your feet when you play soccer?
Well, I have answers. I recently took out the "Z" cleats to test on the field, and this detailed review is what I learned.
We'll discuss in-depth features about the cleats, how they affect your game on the field, and other alternatives you might prefer instead.
FUTURE Z Overview
Cleats are external protrusions under sporting shoes specifically made to improve traction on soft or slippery surfaces.
The Z boasts a stylish, luminous design in black, white, and yellow. Customized for Neymar, these are Puma's most advanced set of soccer cleats.
It does make sense that they would put their all into this lustrous pair: the sporting behemoth signed a mega-deal with Neymar!
These are arguably some of the best soccer cleats I've worn. For me, it solves the six most important areas of concern when buying cleats: fit, traction, touch, durability, style, and price.
So let's take a look at some of these concerns and how Neymar's soccer cleats tackle each one.
The fit
How comfortable you are (how the cleats fit) can determine how efficient you'll be while playing during a game. The fit is that important!
On the first try, I admit I found the cleats a little "off" in the ankle and the lace areas. After a few minutes, however, it felt much better. Puma's use of knit coating ensures that the cleats adapt to the shape of your feet.
Removing the NETFIT lacing system on previous cleat designs, Puma decided to go with a FUZIONFIT+ compression band system.
This knit construction is designed to keep your mid-foot secured in place during the game.
Notably, others have complained that the FUZIONFIT+ band seems to wear better on slightly narrower feet.
So if you have wider feet than normal, you may find the fit somewhat uncomfortable.
Nonetheless, there is a general feeling of unity with the cleats and the feet. Your cleats will stick tightly to your soles, which gives a sturdy feeling of aid while you move on the pitch.
Puma calls this the Dynamic Motion System sole, and I think it's brilliant, especially during quick direction changes during a match.
The traction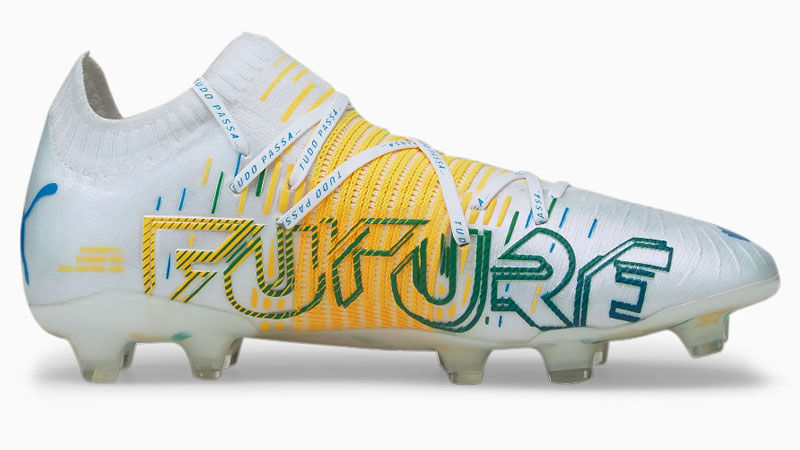 Neymar is well-known for his flair on the field. Elusive movements, dribbling skills, soft touches on the ball, and fast directional changes: Neymar is nearly unrivaled in skill.
With his input clearly on these cleats, their underside would certainly be built to suit his needs.
Neymar's quick turns and movements will need lots of traction, and that's what this pair of cleats offers. The underside is completely redesigned with what Puma calls an advanced stud configuration.
The transparent studs help with multidirectional traction, and they showcase the pair's underside designs as well.
These cleats enhance agility and movement, even in the rain. Tried and tested, I thoroughly enjoyed playing in them, even if I'm not near as good as the Brazilian star.
The touch
Akin to the feeling of a second skin, Neymar's soccer cleats have a good (but soft) grip. When I put on these cleats for the first time, I loved how soft and supple the material is.
There's also a cushion-like lining that adds a padded piece of extra comfort to the interior.
Puma explains that the NanoGrip technology is used to improve cushioning, and I can't argue with them there.
The sole and sides of the foot are cushioned and stick to your feet in any situation.
It makes sense that these cleats were made especially for Neymar. The cushioned insides and subtle knitting on the FUZIONFIT+ band are built to enhance his dynamism on the field.
The durability
On the day I tried the cleats out, I played in the rain on a synthetic pitch. I also tested them out on natural grass as well.
The brooding black and yellow graphics might look like they're prone to getting stained, but this wasn't the case.
Cleaning mud off the cleats was a fairly straightforward affair, and they were looking good as new afterward. With proper cleaning and care, there's no need to worry about durability with your pair of Future Z 1.1 cleats.
I used a mixture of laundry detergent and water to wash out the stains and then wiped the cleats clean. This simple solution works quite well, so there's no need for costly maintenance with these cleats.
The style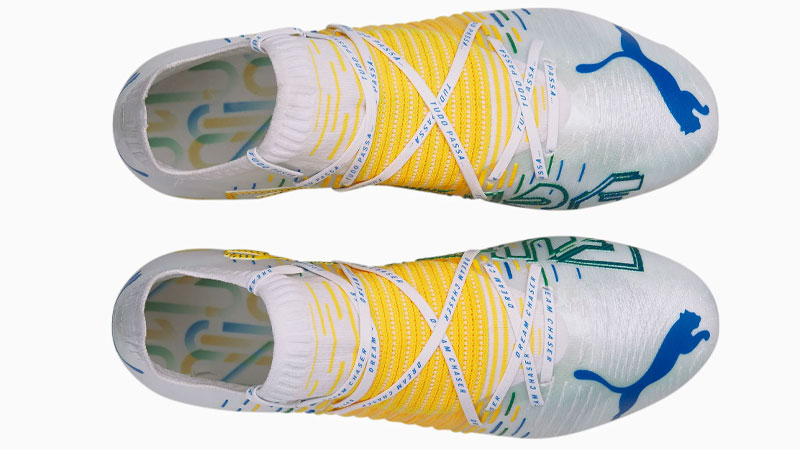 This pair of cleats take a vibrant turn from its predecessor's simpler white-based designs. The daring black and bright yellow colors make a clear, bold statement from the get-go.
After all, it's hard for your opponents to ignore your cleats when they're that shouty and beautiful.
The "Future" brand is proclaimed in a sharp white font on the sides of the cleats, while the Puma's telltale logo sits boldly on the front and back.
The yellow studs at the bottom of the cleats enhance the fluent black and yellow design that crisscrosses the entire pair.
In the middle of the cleats, Puma's FUZIONFIT+ tech sits in black and white stripes with yellow laces diagonally striped across.
This is a prominent shift from the previous pairs within the Future brand of cleats which had little dark aesthetics.
If you're a fashionista – like Neymar, then you should have no problems mixing your style with your game on the pitch.
These cleats let you do just that, as they replace their predecessor's simpler colors with vibrance and graphic design.
The price
Adidas and Nike both have cleats that exceed Puma's range on Amazon, yet I'd argue that there's little difference in quality.
This is certainly great news for Puma lovers, but it will likely snatch some Nike and Adidas fans along the way. With Neymar wearing the exuberant pair at PSG, Puma's presence on soccer fields will certainly catapult this season.
Alternatives
Honestly, Puma's Future collection of cleats won't be a great fit for everyone. With Neymar's input in the design and the features that Puma proudly promotes, it's clear that these cleats are made to fit the Brazilian captain's style of play.
For other less skillful players, there might be better alternatives out there.
If you love to drive down the flanks and power shots at goal, Nike's Mercurial Superfly 8 might be your best bet. If you're a playmaker with great passing vision, Adidas' Copa Sense could improve your game.
With that in mind, let's take a look at some alternatives for players who don't play the Neymar way.
Puma Ultra
Outside the legacy of Puma's Future brand, the Ultra brand has some defining cleats too. A little older than this current Future Z edition, Ultra cleats focus on speed and power, unlike Future's focus on fit and maneuverability.
It's also cheaper by $50, so it's a great alternative for your pocket too.
Adidas Copa Sense
While you'll have to part ways with $275, it would all be for the right reasons.
Continuing the legacy of the Copa cleats series in fine fashion, the new Copa Sense features SENSEPODS and TOUCHPODS to provide extra control and comfort. For a skillful first touch and an increased passing range, these will offer you the right features.
Nike Mercurial Superfly 8
The Mercurial lineup of cleats arguably sets the standard for delivering speed and lightweight performance. The new Superfly 8 is no different.
Collared at the ankle in Nike's renowned style, these cleats will set you back by nearly $300. Mercurial cleats, especially the Vapors and Superflys, are legendary for their traction and acceleration aid.
Verdict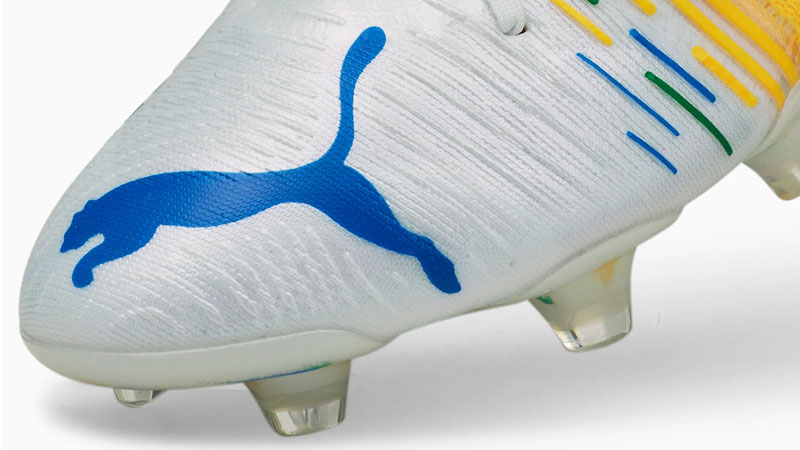 Puma's new limited edition cleats are, by far, the best for skillful dribblers who prefer finesse and flair over speed and power. It's arguably worth every penny too.
It has optimal cushioning, an anti-slip design, and adaptive skin that fits your feet. This offers your feet superior softness and comfort.
The dynamic graphics are bold and fashionable, putting these cleats at the forefront of football fashion.
So, if you enjoy showboating and skillful playmaking, these are the best cleats you'll find in the market. If they're good enough for Neymar, they'll certainly be great for you!
Where to buy
You can purchase Neymar's soccer cleats on Amazon. With shipping available across the US, you can place your order today and join your squad with your new cleats next weekend!