Authority Soccer (authoritysoccer.com) is a participant in the Amazon Services LLC Associates Program, an affiliate advertising program designed to provide a means for sites to earn advertising fees by advertising and linking to Amazon.com. This site also participates in other affiliate programs and is compensated for referring traffic and business to them.
Although they share similar roots, are both recognized by FIFA, and both aim to put the ball in the opponent's goal, soccer and futsal have had some very significant differences.
Futsal, however, has long sat in the shadows of its massive behemoth that is world soccer.
At heart, the principles are the same: Score more goals than your opponent.
However, while soccer is famous for its slow-building tempo, futsal is building a larger audience base because of its fast-paced nature.
Yet, speed isn't the only difference between the two similar sports. In this article, let's take a look at 11 key differences that make each side stand out.
Soccer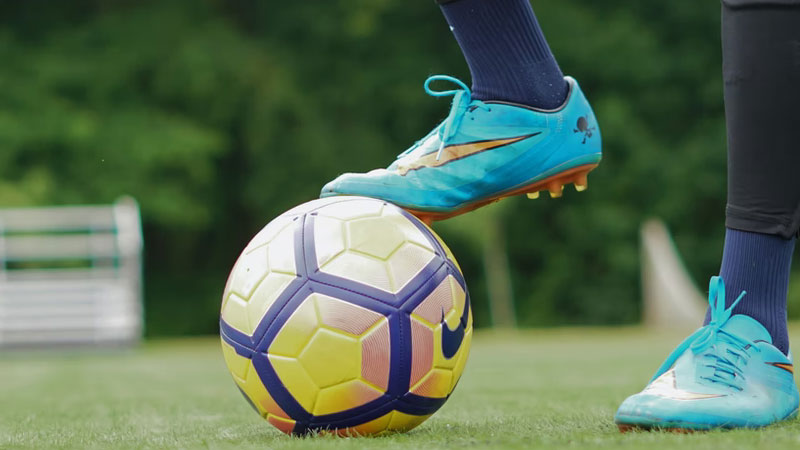 Likely because of soccer's rather vibrant following worldwide, everyone has some idea of what the general rules are.
Soccer can be enjoyed individually, especially in training, practicing skill moves, and hitting a target.
However, the beauty of the game is in the interaction with teammates. With soccer, passing the ball to link up with your teammates and scoring goals is very vital.
There are usually two obvious phases at every given point in any soccer game: the offensive (also called attacking) and defensive phases.
The team holding onto the ball at any point is usually the team in the offensive phase, while the team looking to steal the ball is the defending team.
The key aim is for your team to defend properly when the other team has the ball, and find a way to score when you are on the offensive.
Some basic rules are set against how you defend when the other team has the ball. For example, you can't use your hands to touch the ball (unless you're the goalkeeper, of course). You also aren't allowed to hurt an opponent deliberately.
If you commit a foul by breaking any of those general rules, the referee will penalize your team and might even penalize you as well.
The referee decides if a game is being played fairly, and will intervene when any rules are broken. If you tackle another player roughly, the ref might warn you with a yellow card, or hand you a straight red card if your tackle violated any major rules.
Futsal
Similar to soccer, a notable number of former professional soccer players have gone on to play futsal.
Superstars like Ronaldinho, Paul Scholes, Ryan Giggs, and even Diego Maradona have all delved into futsal after their careers in soccer.
Some players grew up with futsal as their access to the world of soccer; Lionel Messi, Kaka, Zico, and Pele have all credited futsal for developing their skills.
Popular for its basketball court appeal, futsal prides itself in the one key difference it has with soccer: high-intensity play. In futsal, something is always happening.
Blink, and you could miss a searing goal, a wonderfully crafted back-heel pass, or even a howler by the goalkeeper.
With five players on each team (four outfield players and a goalkeeper), all players have to contribute to both the offensive and defensive phases of the game.
The goalkeeper might choose to stick to the post area, but often, goalies are seen venturing out and even taking shots at goal as well.
The outfield players usually include a goal-scorer (although anyone can score), two players who veer out to each wing to add some width to the team, and one player who sits ahead of the goalkeeper.
Fouls are a tricky business in futsal. If you commit more than 5 fouls in a half, the other side gets awarded a free kick. Yellow cards and red cards are also used by the ref for warnings and dismissals respectively.
Interestingly, when you are sent for a red card offense, another player on your team can take your spot after 2 minutes have elapsed.
Soccer vs Futsal: 11 Key Differences
Location
While futsal can be easily played on any hard surface (indoors and outdoors), soccer requires a full-sized pitch.
With futsal, all you really need are a ball, some shoes, and a few teammates who are as skillful as you. For soccer, you need to find a minimum of 10 other people to join you before you can start a game.
Game speed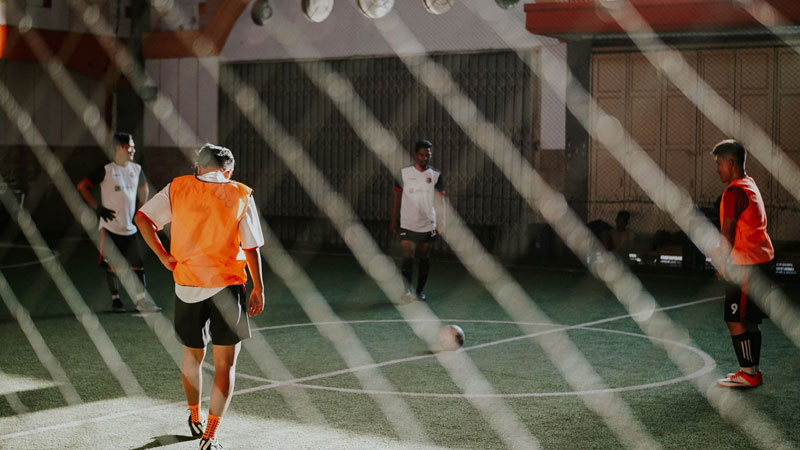 It's often usual for a soccer game to go a few long minutes without any serious action from either side. With futsal, this is impossible.
While soccer players can choose to reduce and control the tempo of the game by passing vertically across the field, futsal players have no such space.
Added to the rule in futsal that goalkeepers must not hold onto the ball for more than four seconds, there is little opportunity to waste any time. Referees tend to be a lot more lenient with soccer goalkeepers who waste time.
Increased player touches
A large soccer field with 22 players on it will likely see some players get much fewer touches on the ball than others.
This is the opposite with futsal which has 10 players running around on a much smaller pitch. According to Dr. Emilio Miranda from Sao Paolo University, a futsal player will have 600% more touches on the ball than a soccer player.
Player roles
In soccer, the large pitch sizes make it important for each player to acknowledge and understand the tactical role they play in their area of the field.
Defenders are more inclined to focus on contributing defensively to the game. Midfielders are there to link the defense to the attack, and the attack is likely to focus on scoring goals. In futsal, there are only 5 players on each team.
With futsal, each player has to be adept in both attacking and defending.
Skillsets
Similar to the player roles, skills are what allow a particular player performs well in their given or natural role. In soccer, a midfielder might have great passing skills but poor heading skills.
Or, a defender might have great tackling skills but little passing vision. In futsal, each player (irrespective of position) needs flair, creativity, and out-of-the-box thinking to adapt to the fast-paced rigor of the game.
Unbelievable passes, crazy moves, and shocker goals are more likely to show up in futsal than on a soccer field.
Field dynamics
Down to the issue of pitch size, the futsal pitch is rather significantly smaller than soccer. So, rather than long, over-the-defense through-balls which we might often see in soccer, you're likely to experience a shorter passing style of play in futsal.
A lot of focus in futsal is in retaining possession of the ball, rather than overly quick counterattacks.
Futsal players are more aware of their surroundings because any tiny lapse in concentration can lead to the opponent stealing the ball and scoring within 5 seconds.
Red card substitution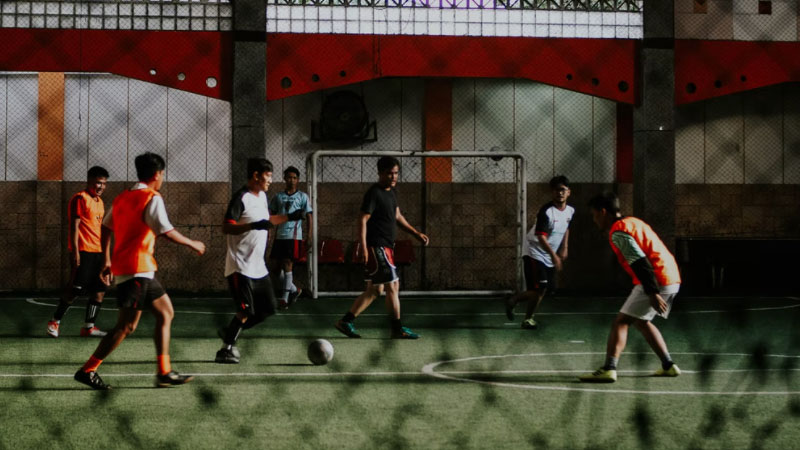 Any lover of soccer would laugh you in the face if you mentioned substituting a player who receives a red card. However, this is the norm in futsal.
While a red card in soccer means that the team has to make do with only 10 men for the rest of the match, futsal allows a player to be replaced two minutes after they've been sent off.
The Clock
In soccer, the match really goes on for 90+ minutes. The "+" is essentially added by the referee based on whatever may have stopped the game during the original 90 minutes.
The counting clock never stops with soccer. With futsal, however, it does. Futsal allows you to call for one timeout per half while the clock pauses. 
Unlimited Substitutions
In soccer, you have 11 players on your team alongside a bench of five to seven players (depending on the tournament). From these five to seven, you can choose three who will replace tired or injured players during the course of the game.
With futsal, it's very different. You can substitute whoever you want, and for as many times as you want. The futsal bench has 12 substitutions, which means you can effectively change your squad 3 times.
No Offsides
Futsal players have the freedom to roam across the ends of the pitch, rather than have to stick to a defensive line. In soccer, the offside rule – which tends to cause controversy – is an important part of the game.
If an attacker is behind the defensive line and the ball is passed to that attacker, then the attacker has been caught offside. Due to the size of the smaller futsal field, however, the offside rule does not exist.
Attackers can run behind defenders without being penalized for an offside position.
Different Ball Bounce
The Futsal ball is one size lower than the standard soccer ball and is usually filled with cotton to improve its unique bounce.
Notably, the futsal ball bounces less than the soccer ball. This means that futsal players will find it a lot easier to control the ball better.
According to FIFA, an official futsal ball should have 30% less bounce. In fact, you often don't get more than two bounces consecutively.
Statistically, the more time the ball spends on the ground, the easier it is for you to handle it, control it, and find that game-winning goal.