Authority Soccer (authoritysoccer.com) is a participant in the Amazon Services LLC Associates Program, an affiliate advertising program designed to provide a means for sites to earn advertising fees by advertising and linking to Amazon.com. This site also participates in other affiliate programs and is compensated for referring traffic and business to them.
Shirts vs Skins? Rotating goalies? The last goal wins? If you're unfamiliar with these terms, you're probably new to the not-so-hidden side of the world's most popular sport. Welcome to recreational soccer.
Recreational soccer is the amateur or informal and non-professional play of association soccer. It is characterized by little or no scheduling.
The number of players allowed is variable, as are the rules and officiating. As far as prizes, participants may or may not contribute to a series of friendly bets or tournament prize monies.
Let's kickoff and get acquainted with the beer-bellied Messi, or that "superstar" ball-hog who "once had a trial at West Ham".
What is Recreational soccer and how can it impact you and the ones you love?
What is recreational soccer?
Officially (pun intended), recreational soccer is unofficial soccer. Some might say it is the amateur or informal non-professional play of association football aka "soccer".
Simply put, it is soccer for fun. The rules are decided by the players themselves, often on the fly.
Some organized tournaments, like 5-aside futsal or even 11 v 11 mini-leagues, can be set up of course, with great professionalism and even sponsorships. However, the overall aim is to have fun, not to get the best out of a $100 million striker.   
I often find myself in central midfield, scheming like Iniesta, when my friends and I hang out at the local park. The owner of the ball is the rule maker oftentimes, so I know not to school him…too much.
Offsides are non-existent, as are yellow cards or, thankfully, VAR. The afternoon sun pummels the dry grass even further, making the ball bounce unpredictably.
Nutmegs abound because trickery is just as, if not more important than scoring goals.
If you want to recreate your favorite international leagues and competitions, you could set up a mini-league or league-and-playoff competition with your friends, school or workmates, and your community.
If participating members agree, you could all decide on a prize money amount that everyone contributes to. Sponsors could also be brought in to help market these football tournaments, produce uniforms, and provide winners' purses.
However, most people just want a ball and some friends or family to have a kickabout with.
The rules are entirely up to you. Some teams can play with more numbers to compensate for major disadvantages, such as in kids versus grown-ups. 
Some games are one-man/woman-for-themselves affairs, with several individuals vying for the ball and trying to dribble their way to goalscoring chances.
This game is played with only one goal and one goalkeeper trying to deter everyone. Whoever manages to score chooses the goalkeeper for the next go-around. 
Three or five-a-side contests are possible if numbers are high enough. You could even have reserve teams that wait in the wings during rotating sessions.
My personal favorite is the one on one duel. Find yourself a decent-sized patch of grass then set up the goals.
Some shoes or even sweaters will suffice. However, I recommend the Sport Nets portable soccer goals (Available on Amazon), which come in different sizes and all feature high-quality materials. If your finishing is lethal enough you will be banging them in like RvP.  
 Play in your backyard, your school during recess, the park, or even the beach, and try out your skills and techniques. Many of the game's greats honed their talents in the streets of their hometowns.
However, for safety reasons, try to avoid playing football near the road, and always look both ways before following a loose ball into the street.
Why should you play recreational soccer?
Recreational soccer is fun, friendly, and competitive on your own terms. One needs time to unwind and have some healthy competition while burning a few extra calories.
Soccer ticks those boxes excellently and is a fun activity at informal gatherings like parties and barbeques. 
If you're anything like me, you hate jogging. Even though I know it's good for me, the idea of jogging to and from a destination is not as appealing as chasing a leather soccer ball all over the place.
Soccer has all the cardio benefits of jogging, while the quick turns and stop-starts in the game are fantastic for your core. The jumps and headers will help develop your leg, neck, and stabilizing muscles too.
A soccer habit might also be easier to stick to than jogging or even the gym.
The beauty of "the beautiful game" is that it is almost a universal language at this point. Anyone can join in and play with minimal fuss, making this one of the best ways to make friends from all walks of life.
That is more than enough reason to take part. Compete and settle scores with friends, siblings, or even significant others while keeping fit.
Why should your kids play recreational soccer?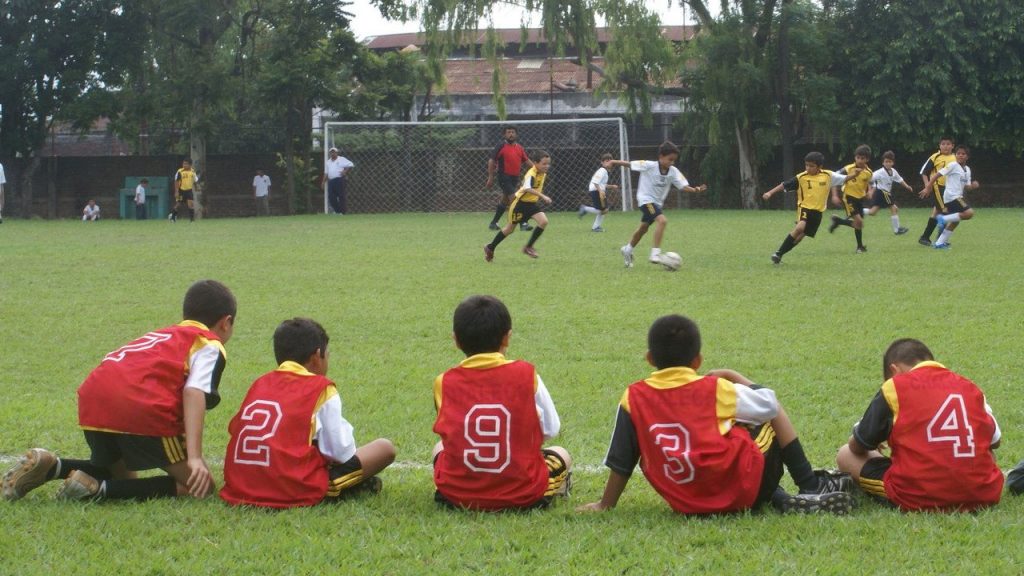 Soccer is a great activity for kids of all ages. Nowadays, smartphones, tablets, and good old TV monopolize our kids' attention so much that they barely get enough sunlight, let alone exercise.
With obesity on an exponential rise, kids need to have as much physical activity to avoid health problems in the future.
Actively playing soccer is an awesome full-body workout and the sport is mentally engaging as well. One needs sharp puzzle-solving skills to respond to the rapidly changing scenarios involved in the game.
All of this is great for a child's physiological development. The intricate movements and techniques also help sharpen motor skills and coordination.  
Soccer also has social benefits for children growing up. To be an effective team, members must communicate constantly. This teaches kids how to be vocal, in addition to the overall teambuilding skills that come from playing with others.
Kids can also make friends with other children in the community or school through recreational soccer.
If not for the above reasons, then consider this. Your son or daughter could be the next Christian Pulisic or Rose Lavelle.
Allow them to play this wonderful sport and they may surprise you with a hidden talent worth millions.
What is the difference between competitive and recreational soccer?
Apart from the structure, scheduling, rules…and the money, perhaps the main difference between recreational and competitive soccer is that the latter is licensed, while the former is not.
Competitive soccer is often sanctioned and governed by a regional or national football association.
In most countries, these national associations report to their continental football associations, which report to FIFA. Rules are made by these governing bodies and officials are formally employed to enforce them.
Recreational soccer is free from such red tape. There may be a rule or two here and there, but the main thing here is to play until the owner of the ball has to go for supper.