Authority Soccer (authoritysoccer.com) is a participant in the Amazon Services LLC Associates Program, an affiliate advertising program designed to provide a means for sites to earn advertising fees by advertising and linking to Amazon.com. This site also participates in other affiliate programs and is compensated for referring traffic and business to them.
There's a reason we all watch soccer: it can be entertaining to observe even when neither of the teams in scoring.
However, goals are what drive the excitement among viewers even further, and that's exactly what we're looking forward to. On rare occasions, the players on the field award us with a goal-scoring fiesta.
Even less commonly, a single player can turn the game into a one-man show. Most of us already know what this can lead to; a hat trick.
For those new to the game of soccer, let's explain what it is and what does a hat trick means in soccer?
In soccer, a player who scores 3 goals during the game has achieved a hat trick. Considering the fact that an average soccer game sees 2.6 goals, scoring a hat trick is not a common occurrence for the average player. This is why it's one of the high points and top achievements of every soccer player's career. 
The term hat trick is used for 3 scores in soccer, hockey, water polo, and many other sports.
The levels of individual and teamwork, as well as luck, behind scoring a hat trick are just insane, and that's why it's the topic of today's discussion.
In addition to explaining the technicalities behind it, in this article, we will also explain the origin of the term hat trick, as well as discuss the soccer players who made history for making the most hat tricks in soccer. Let's begin!
Why is it called a hat trick?
Hat tricks in sport have been around for almost 200 years. Depending on the source of information, multiple theories for where this term comes from are available. First, let's explain the hat part of the phrase with the two most popular genesis stories:
The first story says that, in 1858, a cricket player by the name of HH Stephenson achieved something that was considered impossible, or at least highly improbable, in this sport; he took 3 wickets in 3 balls.
The legend says that a money collection was taken around the cricket field to honor his feat, and all of the proceeds were used to buy him a hat.
Somewhat similar to the previous story, another assumption states that the term hat trick comes from passing the hat around in sporting events, and awarding spectacular athletic performances by giving all of the money collected to the most impressive player.
The trick portion of the phrase hat trick, on the other hand, has just one origin story:
During the mid-1800s, magicians' performances became a thing. Pulling rabbits out of a hat was one of the most popular tricks of the time.
How is this connected with a hat trick in soccer? Well, scoring 3 goals in a single game is an astonishing accomplishment that, when done right, can seem magical, so we can easily see the correlation.
Who has the most hat tricks in soccer?
While numerous professional soccer players have experienced the thrill of scoring a hat trick, not many of them have the ability to do so consistently.
It takes exceptional talent and immense work and dedication to the sport to be able to score 3 or more goals multiple times per season.
Currently, a handful of players who can do this includes Ronaldo, Messi, and a few others. However, none of them are likely to catch up with the legend of hat tricks and soccer in general.
Here's who holds the unbeatable title for the most hat tricks in soccer:
Edson Arantes do Nascimento AKA Pele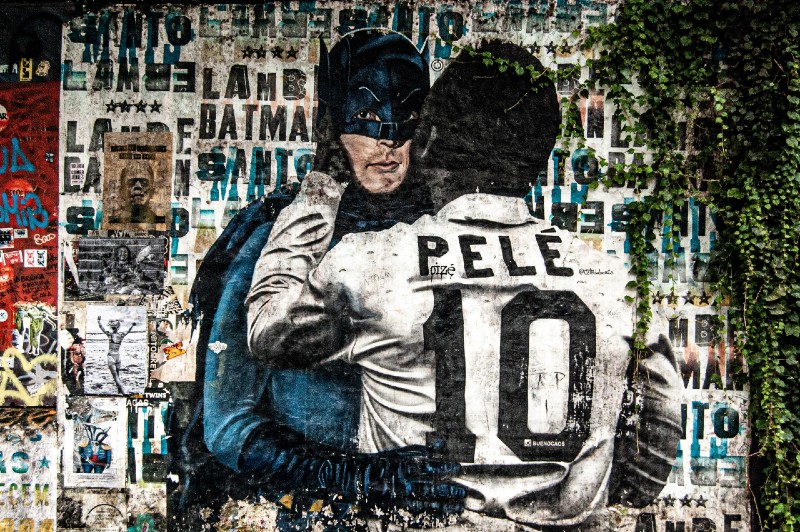 This Brazilian player is one of the most accomplished soccer players in the history of the sport. In 1999, FIFA voted him the World Player of the Century. How many hat tricks did Pele score to achieve this honor? 
As if winning the World Cup 3 times in his career wasn't enough, the legendary Pele had to go and score 92 hat tricks in his soccer career.
He also happens to be the youngest player to score a hat trick in a World Cup, doing so at the age of 17. A true legend of the sport, Pele's hat tricks are unlikely to be matched by a modern-day player any time soon.
In total, Pele scored 1283 goals in his career.
Even some of the most successful players of our time, such as Cristiano Ronaldo and Leo Messi, still have more than a third of the way to go in order to reach Pele's success when it comes to hat tricks.
Both Messi and Ronaldo have scored around 60 hat tricks in their careers. Let's take a look into some of their hat trick-related achievements:
Cristiano Ronaldo scored his first and only hat trick for Manchester United in January 2008. After transferring to Real Madrid in the 2009-10 season, he needed just a few months to score another one (May 2010).
By the time Ronaldo left Real Madrid, he scored 34 hat tricks for the team, scoring hat tricks against 20 teams in La Liga. Ronaldo has never scored a hat trick in El Classico.
Lionel Messi holds the record for most hat tricks in La Liga; having scored his 36th hat trick in February 2020, he ensured that he was ahead of Ronaldo.
Another thing that he has over one of his main rivals is the fact that he scored a hat trick in an El Classico; Messi scored his first one at the age of 19, all the way back in 2007.
Other contemporary players' hat trick-related achievements seem even less impressive, especially when compared to Pele. Let's take a look into some of their hat trick statistics:
Luis Suarez is known for his, to put it gently, tougher approach to soccer. However, the man can score. Suarez scored his first hat trick with Ajax, the team he joined in the 2007-08 season.
After moving to Liverpool, Suarez needed more than a year to score his first hat trick. His first hat trick for Barcelona took the same time.
Robert Lewandowski scored the first hat trick of his career in October 2011, around a year and a half after joining Borussia Dortmund.
Staying within the Bundesliga, Lewandowski scored 9 hat tricks. Even though he is one of the top players of the German league, his stats just don't seem impressive when compared to the top dogs of the game.
Looking at the MLS, hat trick statistics pale in comparison to Pele and the European top players. Here are the players who hold hat trick records in the MLS:
Josef Martinez has 6 career hat tricks scored during the regular season.
Stern John recorded 5 hat tricks in the MLS, not including playoffs, before retiring from soccer. The same number of hat tricks is shared by Diego Serna, Chris Wondolowski, and Bradley Wright-Phillips.
Edson Buddle scored 4 hat tricks in his career during the regular Major League Soccer season. 
Who scored the fastest hat trick?
As exciting as hat tricks are, sometimes they can take the full 90 minutes of play to achieve.
Some players manage to take this already amazing achievement and bring it to the next level, scoring multiple goals just minutes after the whistle blows for the start of the game.
In general, however, the hat trick timer starts running once the player scores their first goal of the match. Let's find out who scored the fastest hat tricks in soccer:
Alex Torr holds the record for the fastest hat trick in a soccer game, scoring 3 goals just 70 seconds apart. This record was set in 2013, beating the previous record of 90 seconds, set in 1964. What we should keep in mind is that Torr scored his hat trick in a Sunday League game, which is an amateur competition.
Carli Lloyd holds the record for the fastest hat trick scored in a World Cup final, scoring 3 goals with just 13 minutes between them.
Playing for the USA, she also scored the fastest World Cup hat trick, for both female and male soccer, just 16 minutes after the kickoff.
Fabienne Humm from Switzerland scored a hat trick with just 5 minutes between the first and the last goal. This is the fastest hat trick in an international competition.
Sadio Mane scored the fastest hat trick in Premier League in just 2 minutes and 56 seconds. This Senegalese player was playing for Southampton in 2015 when the record was set.
Bafetimbi Gomis scored the Champion's League fastest hat trick in 7 minutes, showing how having fewer games with a tougher competition can affect a league. Gomis played for Lyon at the time, scoring his hat trick against Dinamo.
What is a double hat trick?
In its true sense, a double hat trick in soccer is when a single player scores at least 6 goals in a game. According to the data from the English Premier League, the average season sees up to 15 hat tricks in 380 matches.
A double hat trick is even more uncommon to witness. Scoring one is an even rarer occurrence; players have a higher chance of being attacked by a lion on the field than they have of scoring a double hat trick.
This is why the term double hat trick can sometimes be used for hat tricks scored in two separate games.
The simpler version of a double hat trick has been scored by many soccer players. Still, it shouldn't be disregarded as an easy-to-achieve feat. Here's how many games some of the Premier League's top players need to get it:
Andrew Cole took 27 Premier League appearances to score 2 hat tricks.
Robbie Fowler scored his second Premier League hat trick after 30 games in the league.
Les Ferdinand needed 33 appearances to check this achievement from his bucket list.
Callum Wilson played 36 Premier League games between his 2 hat tricks.
Michael Owen appeared 41 times between his first and second hat tricks in the league.
If it wasn't clear before, we should see by now that scoring a double hat trick can be an unobtainable dream, even for top-level soccer players. 
Who has scored a double hat trick?
After discussing the other, much simpler way of achieving a double hat trick, the time to learn more about the real double hat trick has arrived:
Despite being incredibly uncommon, double hat tricks do occur. Players who are able to score one in a professional match can only be described as legends of the sport, and no one can dispute that.
Here are some of the players who've managed to catch the elusive beast that a double hat trick is:
Pele joins our list once again, this time for his performance in the game played in April 1964. Playing for Santos against Botafogo, Pele was just a goal short of a triple hat trick, scoring 8 in an 11-0 victory.
Ted Drake is one of the few players who had the opportunity to include the title of a double hat trick scorer on their resume. Drake even exceeded this already impressive achievement, scoring 7 goals in a game against Aston Villa. He led his team, Arsenal, to a 7-1 win, in December of 1935.
George Best was a Northern Irish soccer player who spent most of his career playing for Manchester United. Playing against Northampton, Best lead his team to an 8-2 victory, scoring 6 goals himself.
However, this FA Cup record wasn't as impressive at the time as it would have been today; just a year prior, Geoff Hurst led West Ham to an 8-0 victory over Sunderland, scoring a double hat trick of his own.
Less than 2 years after Best's double hat trick, in 1971, Ted MacDougal scored a triple hat trick. Still, no modern-day Manchester United players were able to catch up to Best, who remains a legend of the club, as well as the sport in general.
Mascarenhas is another old-school double hat trick scorer. This Sporting FC player entered the history of the sport on November 13, 1963, when he scored 6 against APOEL. The final score of the game was an astonishing 16-1.
Eldar Hadzimehmedovic is one of the few examples of soccer players of the 21st century scoring a double hat trick. Playing in the Lyn jersey, Hadzimehmedovic scored 6 to beat NSI Runavik in a 6-0 UEFA Cup game played back in 2003.
Luis Suarez is another reoccurring name on this list. After mentioning him for his hat trick efforts, Suarez earned a spot in the double hat trick section of this text by scoring 6 goals in a game versus WHC.
He was playing for Ajax at the time, leading the team to a 14-1 victory in the Dutch Cup.
As evident from the list above, achieving a double hat trick was a much simpler task during the middle of the 20th century. Even though they are on a whole different physical level, modern-day players such as Messi, Ronaldo, Suarez, and others, have been able to score more than 3 goals per game, but all of them struggle to reach the 6 goals per game mark.
Altered regulations, tougher competition, and plenty of other factors have caused this change.
What happens if 2 players get a hat trick?
Soccer is a game of tradition. As fans of the sport, we live for the derby and ultimate rivalry games such as El Classico, and for the chance to chant our favorite teams' songs, either live, in a pub, or in front of the TV.
On the other hand, players live for other traditions. One of them has to do with hat tricks:
An old soccer tradition is to award the Most Valuable Player of the game with the game ball. Also, tradition dictates that in case a player scores a hat trick in a professional soccer game, he gets to keep the match ball; let's face it – if he scores a hat trick, it's also likely that he's pronounced the MVP.
On rare occasions when there are 2 hat trick scorers, both players will be awarded a ball, as, typically, more than 1 ball is used per game.
An average of 7 different soccer balls is used per game, so the lack of balls to award should not be an issue. If, for some reason, just a single soccer ball has been used in the match, whoever scored the 2nd hat trick can choose to take an unused ball home.
As fans, our passion for the game unites us. The same goes for players. Whether it is women or men playing, soccer is an exciting game that we all love.
Hat tricks, double hat tricks, or even 2 players achieving one of these milestones during a game, can do nothing but improve the all-around experience.
What comes after hat-trick?
After the hat trick comes haul (4 goals), glut (five goals), double hat trick (six goals), and haul trick (seven goals).