Authority Soccer (authoritysoccer.com) is a participant in the Amazon Services LLC Associates Program, an affiliate advertising program designed to provide a means for sites to earn advertising fees by advertising and linking to Amazon.com. This site also participates in other affiliate programs and is compensated for referring traffic and business to them.
Becoming a soccer referee is not a common dream for young boys and girls around the world, but it often becomes their career of choice after failing to succeed as a player.
Being a soccer referee at an amateur level can also be a great hobby that keeps you healthy and entertained. So, what does it take, and is it hard to be a soccer referee?
Becoming a soccer referee is not hard. Amateur league referees need to meet some basic requirements, while semi-professional soccer referees need additional experience.
Becoming a soccer referee in national and international leagues, however, can be a demanding task that takes years to fulfill.
In today's article, we will discover what the requirements for becoming a soccer referee are and whether anyone can perform this duty. Enjoy the reading!
Can anyone be a soccer referee?
According to the FA, any person that meets a set of simple requirements can become a soccer referee. Here's the list of those requirements:
You must be at least 14 years old to become a soccer referee.
You must be reasonably fit.
You should be in good health, including good eyesight (glasses and contacts are acceptable).
You must successfully pass a CRB (Criminal Records Bureau) check.
Those who are working with adults do not need the CRB check, as it is only required for soccer workers that are involved with children.
Simply put, almost anyone can be a soccer referee if they're determined enough and if they meet the basic criteria set by the FA. Next, the question of how hard the process of becoming a soccer referee arises:
Is it hard to become a soccer referee?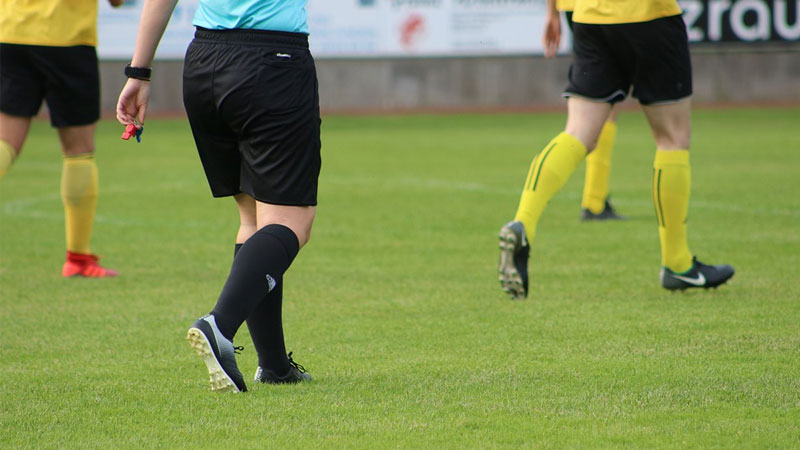 According to the official data, there are around 140,000 certified referees in the US regulating amateur youth and adult games alone. This piece of data shows that becoming a soccer referee is not a difficult goal to achieve, at least at this level. 
Amateur soccer games are mostly regulated by referees who do it is a hobby. A portion of these referees, however, have ambitions to move on to the higher ranks.
This is where things get tricky; only a small percentage of the 140,000 amateur referees in the US will be given a chance to move on to serious competitions such as MLS, NWSL, USL, and NPSL.
Having in mind that anyone over the age of 14 can apply, becoming a soccer referee is not a difficult process, as long as you're reasonably fit, healthy, and have a clear record.
The CRB certification is needed in order to ensure that soccer remains a safe and enjoyable environment for all of the players. You can find out more about this check and what it entails here.
For those wondering how much it costs to become a soccer referee, the answer is not much; from $100 to $125.
There's a course that entry-level referees should take that costs around $30, a registration fee for the US Soccer Federation of $40, while the rest goes toward buying the referee kit and gear.
Amateur soccer referees typically need a couple of games to earn the invested money back.
To answer the initial question, becoming a soccer referee at a professional level can be a tricky task that requires as much work as becoming a professional athlete in the sport.
Is it hard to be a soccer referee?
Being a soccer referee is not regarded as a difficult occupation. However, we need to keep in mind that this position does come with a lot of responsibilities, which can be stressful.
Being a soccer referee is a profession that mostly attracts assertive, authoritative people, and those who don't possess those characteristics naturally have to put a lot more work in. 
As long as you're confident in your knowledge and ability as a soccer referee, there should be no issues in regulating any type of competition, from amateur matches to the World Cup Finals.
Soccer is a rewarding profession, both on the playing and regulation end of the game, and as long as you love and enjoy it, all of the stress and pressure, as well as the fairly low pay in the US, shouldn't be much of an obstacle.
Being a soccer referee can be an excruciating task, especially at a high level.
That's why many amateur referees who want to make a career in international competitions can ask themselves one question: How do I become better at my job?
How do you become a good soccer referee?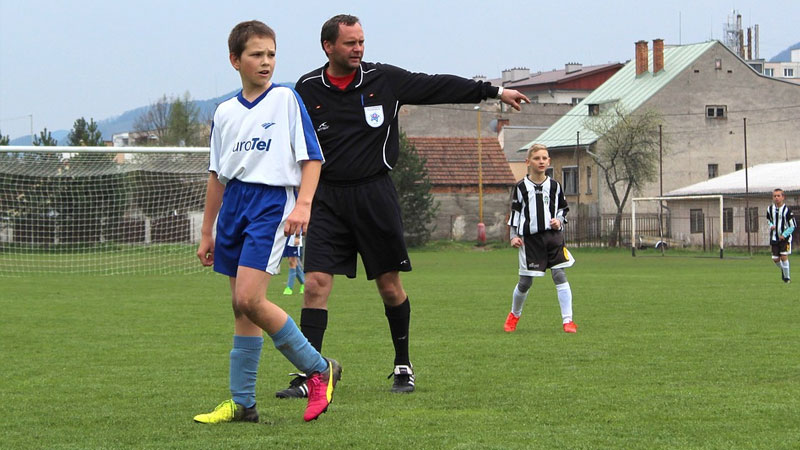 Being a good referee is not a talent or something we're born with; it can take hundreds of hours and dozens of games for a new soccer referee to acclimate to their new role and really set into it.
It can also take multiple seasons to start noticing improvements in your regulation abilities, even when you're putting in a ton of effort into improving.
Here are some of the things that soccer referees need to keep in mind if they want to become better at their job:
1. Know the rules
Even before you apply for certification, you should be well acquainted with all of the official soccer rules if you want to be a good soccer referee.
2. Soccer is a fast game, so keep your focus
A referee always needs to maintain focus on the field. Just a second of inattention can mean that you've missed a key event in the play, so always be on high alert.
3. Watch professional games
Watching FIFA-certified referees can be a great way of improving your own skills in this field. Pay attention to where they are and how they signal for throw-ins, offside, fouls, etc.
To summarize this entire article, we can state that becoming a soccer referee is not hard, it is a rewarding profession to be in, and becoming good at it doesn't require an insane amount of effort.
It is, however, a job that has its setbacks, just like any other.