Authority Soccer (authoritysoccer.com) is a participant in the Amazon Services LLC Associates Program, an affiliate advertising program designed to provide a means for sites to earn advertising fees by advertising and linking to Amazon.com. This site also participates in other affiliate programs and is compensated for referring traffic and business to them.
We have seen it on TV every time we watch a soccer match. With the bright colors of the player's cleats, from Fluro colors to the more basic designs there are many different cleats that soccer players can choose to wear.
But what about the referees? Do they wear cleats? Read on to find out.
Soccer referees are expected and are governed by FIFA law to wear athletic footwear that has black as its primary color and white is not acceptable.
Running shoes, cleats, and turf shoes are all fine for referees to wear however they must always be black in keeping with their uniform.
Do soccer refs wear cleats?
As we mentioned above, the answer is yes they do, however that is not the only footwear that they can wear during a match.
As per FIFA rules, referees can wear either running shoes, turf shoes, or cleats for a soccer match in which they are officiating, however, all shoes must have black as the primary color and white cleats, or shoes are not deemed acceptable.
Can soccer refs wear other kinds of shoes?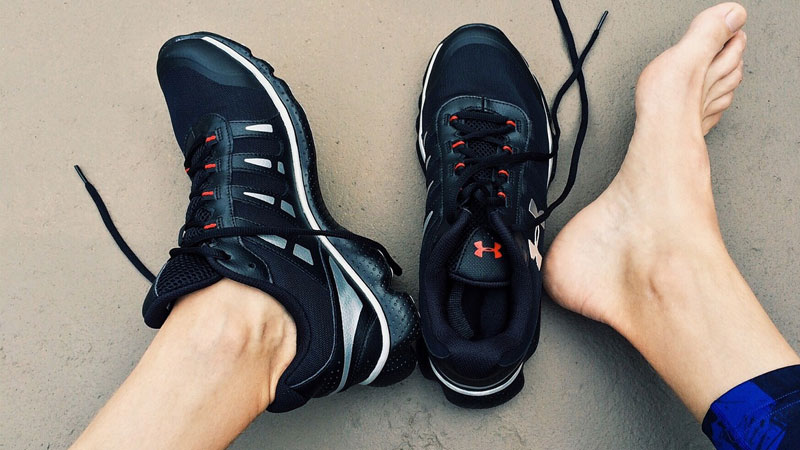 The answer is yes they can. Referees do not have to wear just cleats; they can wear runners or turf shoes as long as they have their main color as black.
Ultimately, the choice about which footwear to put on when they go out to officiate a soccer match is down to the referee themselves.
Some will like to wear cleats because it gives them a grip on the pitch if they have to make quick turns or other movements, whereas others might feel that a running shoe is more comfortable for them and will choose to wear that.
So it is mainly down to personal preference as to what kinds of shoes the referees wear on game day and they are not made to wear just one type of cleat or shoe, as long as it is mostly black in color then they can wear whatever they feel like.
Most professional referees will turn to proper soccer cleats, similar to what soccer players wear. This is because essentially, they are very much like a soccer player on the pitch.
They are doing all the movements, they are running as much if not more than the soccer players so they are a player without a ball.
The other reason that they wear proper cleats is to avoid slipping or falling over during a match because if they do, then they could miss an important moment in the game like a penalty or some off-the-ball play.
It is more in your lower leagues and amateur leagues in which referees will wear running shoes and other footwear as it is not as big of a deal if they slip over because people's livelihoods will not be affected.
Unlike professional soccer players where it is their job to win soccer matches.
1. Best soccer referee cleats the Dream Pairs cleat.
 It is designed to give referees the right control and grip that they need when they are on a pitch that is a little bit wet or damp. It has a very flexible and light upper the shoe is padded, and the collar is cushioned to give you the added support you need.
It also has a neat feature where you can fold over the tongue of the cleat to keep your laces nice and flat and also keep them secure while you are running.
The sole is synthetic, and it will not break the budget, costing between $20 and $25 on Amazon.
2. Adidas Performance Mundial team tuft soccer cleat.
This cleat is in a classic Adidas style and the shoe itself is a softy-lined cleat that has a heel that will not cause chaffing, a tongue that is extended and also has a wedge outsole that has studs molded underneath.
Referees can get their footing and balance on both hard pitches and turf with this cleat and it is lightweight and is very well cushioned and is made from soft leather.
It ranges in prices, coming from $57.00 all the way up to $197.00 on Amazon. 
3. Adidas Men's Freak X Carbon Mid Football Shoe
This Adidas shoe has a nice soft rubber sole, and the shaft of the shoe is measured from the arch to the middle top of your foot.
It has a soft feel when wearing and it is suitable for most types of soccer pitches ranging from soft and muddy to firm and hard surfaces.
Much like the Mundial tuft shoe, the price varies greatly. Starting at just $39.95 all the way up to $89.95 from Amazon. 
4. PUMA Men's one turf trainer
The PUMA Men's one turf trainer is made from a soft synthetic material and because of this it gives referees and players who wear it a great sense of comfort and durability while being incredibly light as well.
With its design, the tongue is a classic model and because of the way the lacing is designed, no matter what kind of shape foot you have, there will be no problem fitting into this comfortable turf trainer.
It is on the cheap side too, with the most expensive trainer costing just $55 but can go as low as $30 from Amazon. 
5. Adidas Mundial Team TF Men Soccer Shoes
It is very similar to the other Mundial Men's shoe we mentioned except this one has a gum rubber sole for supreme comfort. It is also made from the best material and the upper is made of leather.
It has a soft and cushioned foam midsole and has a die-cut EVA cup sole too while having the world-renowned three white stripes of the Adidas logo printed on the sides of the shoes.
These are a little on the expensive side when it comes to cleats and shoes however with Adidas you know that what you are buying will be of the highest quality. At Amazon, the price ranges from $100 to $186.